Seatbelt Laws in West Virginia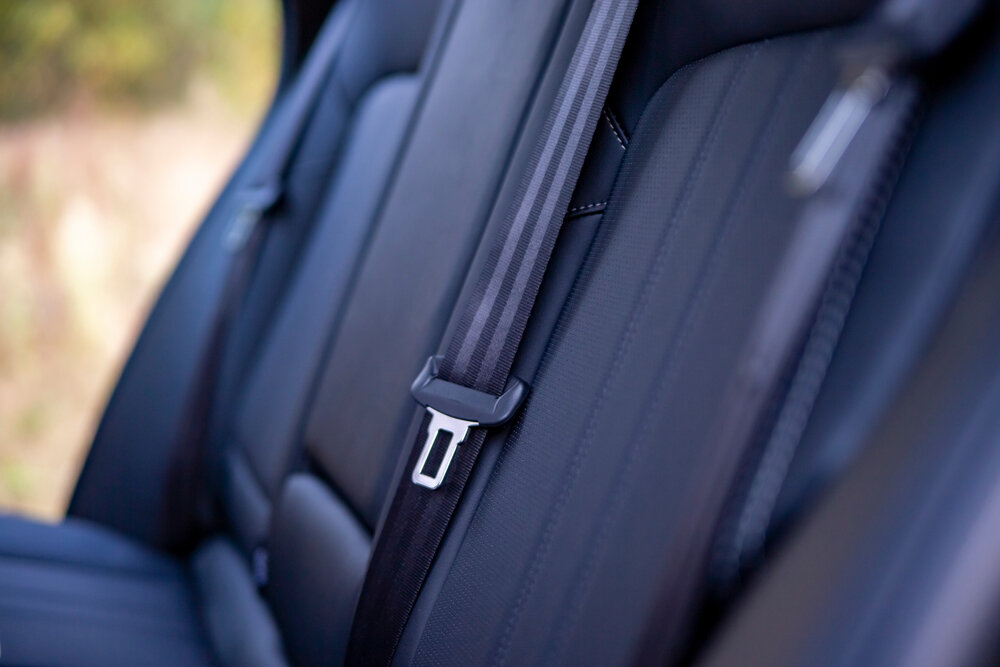 West Virginia adopted its seatbelt law in 1983. Under this law, the driver and any occupant younger than 18 years old must wear a seatbelt in a vehicle designed for 15 or fewer passengers. There are exceptions for Postal Service workers making rural deliveries and people with physically disabling conditions that prevent appropriate restraint.
West Virginia's child safety seat and booster seat law requires that a child younger than 8 years old in a passenger automobile, van, or pickup truck must be secured in a car seat or booster seat while the motor vehicle is operated on a street or highway. However, if a child is at least 4 feet, 9 inches tall (57 inches), wearing a seatbelt is sufficient.
The WV Division of Motor Vehicles recommends that children ride rear-facing until age 2. Around age 4 and 40 pounds, a booster seat may be used, the DMV says. Children should remain in the back seat until age 13.
A violation of the child safety seat statute may be punished by a fine of $10 to $20. If all the seatbelts or car seats, or boosters in a vehicle are being used, an additional unsecured child is not considered a violation.
The Importance of Wearing Seatbelt
Wearing a seatbelt is the most effective thing you can do to guard against injury or death in a car accident. Wearing seat belts and properly buckling children into age- and size-appropriate car seats and booster seats can reduce the risk of serious injury and death in a crash by at least half, according to the Centers for Disease Control and Prevention (CDC).
The CDC said in 2020 that 87% of adults in West Virginia report that they always wear seatbelts, which was comparable with the national average. Do you wear seatbelts? You should. Every time.
After a Car Accident, Can I Sue If I Was Not Wearing a Seatbelt?
West Virginia uses a modified comparative fault standard to assign responsibility and award compensation after car accidents. After a car accident claim, an accident victim who contributed to an accident may still recover compensation for their losses as long as they were not more than 50 percent responsible for the accident.
You may still have a right to file a personal injury lawsuit even if you were not wearing a seat belt when the accident occurred. Your failure to wear a seat did not cause the other driver to run a red light, drive recklessly or commit some traffic infraction.
If lawyers for the other motorist in an accident claim can demonstrate that your failure to wear a seatbelt contributed to your injuries, the amount of compensation you recover might be reduced. But if the other motorist's negligence was the primary cause of the accident and your injuries, you would be eligible to seek some compensation.
An experienced personal injury attorney at Jividen Law would try to negotiate a settlement on your behalf and work to make sure your failure to wear a seatbelt had as little impact as possible on the amount of compensation you recovered. It is probable that the use or failure to use a seatbelt had nothing to do with why the accident happened.
Meanwhile, West Virginia law specifically states that a violation of the child safety seat statute "does not by virtue of the violation alone constitute evidence of negligence or contributory negligence or comparative negligence in any civil action or proceeding for damages." In other words, failure to secure a child in a safety seat cannot be held against you in a claim seeking compensation after an accident.
Seat Belt Safety Tips
Seat belts are the best defense against impaired, aggressive, and distracted drivers. Being buckled up during a crash helps keep you safe and secure inside your vehicle. Accident victims who get thrown from a vehicle almost always suffer fatal injuries.
Airbags are designed to work in conjunction with seatbelts to protect you. Without a seatbelt in a crash, you could be thrown into a rapidly opening frontal airbag. Airbags inflate with enough force to cause serious injury.
When worn properly:

The lap belt rests across your hips, not your stomach.
The shoulder belt crosses the middle of your chest, away from your neck.
The lap belt and shoulder belt should be secured across the pelvis and rib cage, which are better able to withstand crash forces than other parts of your body.

The time to transition your child out of a booster seat and into a seatbelt is usually when the child is between 8 and 12 years old. Keep your children in booster seats until they outgrow the size limits of the booster seats or are big enough to fit properly in seat belts.
Contact a West Virginia Car Accident Attorney
Jividen Law Offices PLLC urges you to wear a seatbelt and to secure children properly when driving in West Virginia. If you have been hurt in a car accident in West Virginia that was not your fault, you should speak to an experienced WV car accident attorney. You may be eligible to pursue financial compensation from the driver responsible for your injuries – regardless of whether you were wearing a seatbelt.
Contact Jividen Law Offices in Wheeling, WV, by phone at (304) 407-7551 or online for a free, no-obligation review of your case. Learn how our firm can give you the best opportunity to seek the maximum compensation available for your losses and suffering.