Wheeling Motorcycle Accident Attorney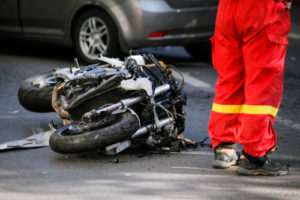 West Virginia Motorcycle Accident Lawyer
Many West Virginia residents enjoy traveling by motorcycle. They enjoy the openness of the outdoors and the rush of air passing them by. A motorcycle offers an exciting and exhilarating way to travel. Unfortunately, motorcycle riders face a greater risk of being in an accident than other motorists.
Too often, other motorists fail to see motorcyclists on the road. When those drivers don't exercise caution when sharing the road with motorcyclists, the thrill of the ride can quickly become a tragedy, with catastrophic and sometimes fatal injuries.
If you have been involved in a motorcycle accident that wasn't your fault, you deserve to seek financial compensation from those responsible for the crash.
For more than 35 years, the West Virginia motorcycle accident lawyers of Jividen Law Offices, PLLC have fought for accident victims who have been injured through no fault of their own. We have a track record of securing successful case outcomes on behalf of our clients. We are honored to have been recognized for our work. We have membership in the Million Dollar Advocates Forum, which recognizes attorneys who have obtained million-dollar settlements or verdicts. We have been included in Super Lawyers for nine consecutive years.
If you have been injured in a motorcycle accident in West Virginia, contact Jividen Law Offices, PLLC today for your free initial consultation.
Why Are Motorcycle Accident Claims More Complicated?
Many people assume that motorcycle accident claims are no different from the typical car accident claim. Nothing could be further from the truth. Claims arising from motorcycle crashes tend to be more complicated than other types of motor vehicle accidents for these reasons:
Motorcycle Riders Tend to Suffer More Serious Injuries. Motorcycle riders are fully exposed in a car accident or collision. That is why motorcyclists often suffer more serious injuries in accidents than the occupants of other vehicles. As a result, injured motorcycle riders tend to incur far more monetary damages. They may require more extensive medical treatment and rehabilitation and have more missed work time. Because more serious injuries require longer and more extensive treatment, injured riders are often still undergoing treatment when their claim enters settlement negotiations. That makes it harder for the injured rider to pinpoint the amount of future damages that will be incurred.
Drivers Involved in Motorcycle Accidents Often Contest Liability. Unfortunately, a driver who causes a motorcycle accident may rely on stereotypes of motorcycle riders as reckless speed demons. The at-fault driver may claim that the injured rider bears some or all of the fault for the crash because of speed or reckless conduct. However, most motorcycle riders understand the risks they face if they get into an accident. For that reason, most riders operate their bikes in a careful and legal manner. When an at-fault driver falsely blames the motorcyclist for the accident, the rider is forced to secure evidence showing they were not responsible for the crash.
What You Need to Know About Proving Fault After a Motorcycle Accident
Too often, our West Virginia motorcycle accident lawyers represent injured riders in cases where the other driver tries to deny liability for the crash. Motorcycle accident claims often require our firm to gather substantial evidence to plainly show that the other driver was at fault.
The evidence we use to prove fault after a motorcycle accident often includes:
Police accident reports
Third-party eyewitness statements
Surveillance camera, dashcam or helmet cam footage
Photographs or videos of the accident scene
Medical records
Accident reconstruction reports, diagrams, animations or recreations
How Our West Virginia Motorcycle Accident Attorney Can Help
If you have a motorcycle accident claim, the West Virginia motorcycle accident attorneys of Jividen Law Offices, PLLC can help you pursue maximum compensation for your injuries and damages by:
Conducting our own independent investigation into your crash to recover any evidence we can use for your case
Working with leading accident reconstruction experts to determine how your crash occurred and who caused it
Identifying all available sources of compensation, including insurance coverages under both the at-fault motorist's policy and your own policy, so that you receive all the financial resources you need and deserve for your recovery
Filing claims with the insurance companies and aggressively pursuing a settlement that provides you with fair and full compensation
Preparing your motorcycle accident case for trial to show the other side that we are serious about fighting for your maximum compensation
At Jividen Law Offices, PLLC, you do not have to pay anything unless and until we recover compensation for you. We understand the financial pressures caused by your serious injuries. We know you are facing a stack of medical bills and lost wages as you miss time from work.
Let us help you seek the financial compensation you need. That will allow you to focus on your recovery.
What Is Your Motorcycle Accident Case Worth?
If you have been in a motorcycle accident, you may have serious injuries that require extensive medical treatment and lengthy rehabilitation. You may have been out of work for an extended period.
If your motorcycle accident was caused by someone else's carelessness, you may be entitled to these types of compensation:
Costs of medical treatment and recovery, including ER/hospital bills, surgeries and other medical procedures, doctor's appointments, pain medication, physical/occupational therapy, home health care, renovations to your home to accommodate disabilities caused by your injuries, and other out-of-pocket expenses related to your recovery
Lost wages or income due to the time you missed from work while recovering from your injuries
Lost earning capacity, if your injuries cause long-term or permanent disabilities that prevent you from returning to your pre-accident employment or level of earning
Pain and suffering
Loss of quality of life, such as due to disfigurements or physical disabilities
You may also be entitled to recover compensation for damaged property, including damage to your motorcycle, your riding gear and your safety equipment.
What to Do After a Motorcycle Accident
After you have been injured in a motorcycle accident, take these steps to help protect your legal rights and options for compensation:
Call 911 or the police. If you or someone else have suffered injuries, call 911 to request emergency medical services; if no one needs immediate medical attention, contact the local police – or state police if on the highway – and have an officer come to the scene of the accident to fill out a police accident report. Request a copy of this report from the police after it has been filed.
Document the scene of the accident. If it is safe to do so, take photos or video of the accident scene. Include details such as the damage to the vehicles involved in the crash, nearby traffic controls, the weather, the traffic, the road conditions, and any visible injuries you have suffered.
Get the contact and insurance information from the drivers involved in the accident.
Get contact information from any eyewitnesses at the scene in case you later need to contact them for a statement.
Seek immediate medical attention from paramedics or by going to the emergency room. You can also schedule an exam with your doctor, even if you do not think you were injured. Remember that the shock of an accident can delay symptoms of injury for hours or even days. Promptly identifying your injuries will help your claim for compensation.
Notify your insurance company of your accident, even if you think you were not at fault. You may be required under your policy to provide your insurer with timely notice of your accident. Timely notice will help preserve your eligibility claim for coverage under your own policy, such as collision coverage or uninsured/underinsured motorist coverage.
Schedule an initial consultation with Jividen Law Offices, PLLC. You can speak with one of our West Virginia motorcycle accident lawyers about your legal rights and options for seeking compensation.
Common Injuries in Motorcycle Wrecks
Without the protection of a surrounding vehicle body and other safety devices of passenger vehicles, motorcycle riders may suffer these catastrophic injuries in a motorcycle crash:
Severe lacerations, which can lead to dangerous blood loss
Broken bones
Dislocated joints
Neck and back injuries, including herniated or ruptured discs
Internal organ injuries and internal bleeding
Head injuries
Traumatic brain injuries
Burns from hot surfaces on the motorcycle engine, or due to "road rash" when skin makes contact with the pavement or ground
Amputations
In an especially violent collision, injuries suffered in a motorcycle accident are often fatal.
Common Causes of Motorcycle Crashes in West Virginia
Unfortunately, some motorists fail to share the road with motorcycle riders, leading to crashes. The causes of motorcycle crashes due to driver negligence include:
Speeding
Following too closely, since motorcycles can stop in a much shorter distance than passenger vehicles or trucks
Unsafe lane changes
Unsafe turns due to failing to signal or yield to oncoming motorcycles
Running yield signs and stop signs or red lights
Failing to fully move over into the adjacent left lane when passing a motorcycle
Opening the door of a parked vehicle in front of an oncoming motorcycle
Drowsy or fatigued driving
Distracted driving caused by cell phone use behind the wheel
Driving under the influence of alcohol or drugs
Other causes of motorcycle accidents include broken pavement or potholes, black ice or slick road surfaces, and low visibility caused by weather, dusk or nighttime.
Understanding West Virginia Motorcycle Laws
Helmet Laws – West Virginia law requires all operators and passengers aboard motorcycles to wear helmets at all times while the motorcycle is moving regardless of age, and the helmets must meet Department of Transportation certification requirements. Helmets must fit snuggly on a rider's head and be free of defects or damage such as cracks, loose padding or fraying straps. If the motorcycle operator or passenger do not wear a helmet, they may be charged with a misdemeanor and, with fees not less than $200 nor more than $500; and upon a second or subsequent conviction shall be fined not less than $500 nor more than $1,000.
Lane Splitting – Lane splitting, which involves a motorcycle sharing a lane of traffic with another motor vehicle or riding on the dividing lines between lanes of traffic, is illegal in the state of West Virginia, with the exception that two motorcycles may ride side by side in the same lane of traffic.
License Requirements – Riders must have a motorcycle operator's license endorsement on their driver's license to lawfully operate a motorcycle in West Virginia. An individual who wishes to obtain a motorcycle license endorsement must have a valid West Virginia driver's license and be 16 years or older. Applicants for the endorsement must pass both a written knowledge test and an on-cycle skills test.
Talk to a Motorcycle Accident Lawyer in Wheeling, WV, Now
If you have been injured in a motorcycle accident in Wheeling or elsewhere in West Virginia, contact Jividen Law Offices, PLLC today to set up a free, no-obligation initial case evaluation.
Talk with one of our knowledgeable motorcycle accident lawyers about your legal rights and options for pursuing financial compensation for your injuries and damages. Learn how our firm can help make the claims process go as smoothly as possible after your accident.
Testimonials
"We were very pleased with the way Jividen Law Offices, PLLC handled our case especially with everything they had to deal with. They did an excellent job for us."
Review by: F.H. & D.H.
Rating: ★★★★★ 5 / 5 stars