Bad Faith Insurance Attorney in Wheeling, WV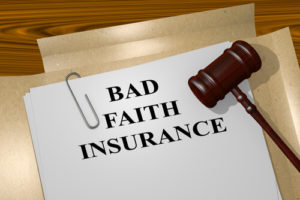 If you have paid your insurance premiums on time for months or years, you assume your insurance company will provide you with coverage when you need it. Unfortunately, some insurance companies do not uphold their end of the bargain. Instead, those companies unreasonably deny or delay payments on plainly valid claims.
If you have had an insurance claim that was not paid in good faith by your insurance company, you have a legal right to pursue the benefits you deserve. You may also deserve compensation for the damages you have incurred because of the insurance company's bad faith conduct.
For more than 35 years, the Wheeling bad faith insurance lawyers at Jividen Law Offices, PLLC have protected the rights and interests of individuals and businesses throughout the Ohio Valley region and across West Virginia. We have helped many clients who have been taken advantage of by unscrupulous insurance companies.
Contact Jividen Law Offices, PLLC today for a free case evaluation. We can discuss your legal rights if you have had a valid insurance claim that was wrongfully delayed or denied by an insurance company. Call our bad faith lawyers or reach out online now.
What Is a Bad Faith Insurance Claim?
A bad faith insurance claim involves an insurance company's attempts to avoid its obligations under an insurance policy. The company may refuse to pay a legitimate claim or fail to timely investigate and process a claim under the deadlines set out in the policy.
Bad faith may include the company's failure to disclose policy limitations or exclusions before a policyholder purchases a policy. A company acting in bad faith may require a policyholder or claimant to submit to unreasonable demands for proof of loss before paying out on a claim. These actions constitute bad faith when the insurance company tries to misinterpret an insurance policy's language to justify the company's bad faith conduct.
A difference in opinion between an insurance policyholder or claimant and the insurance company does not constitute bad faith unless the insurance company fails or refuses to provide a reasonable explanation for its decision-making.
What Do You Have to Prove in a Bad Faith Claim?
In West Virginia, you must prove these three elements to recover damages on a bad faith insurance claim:
You filed a valid claim. Your evidence must show that your underlying insurance claim was valid and payable under the terms of the insurance policy. Your evidence must show you had a covered loss under the policy terms.
The insurance company unreasonably withheld benefits or compensation. You must show that the insurance company acted unreasonably in handling your claim. This can be more easily proven if you can show that the insurance company's actions violated an express term of the policy. You may have to show the company did not conduct an investigation or render a decision on your claim within a certain time frame. Otherwise, proving that the insurance company acted unreasonably may require you to show that another prudent insurance company would have acted differently in response to your claim.
You suffered compensable damages due to the insurance company's actions. Compensable damages from an insurer's bad faith actions can include withheld benefits or compensation. Damages can also include emotional trauma from the stress of fighting to have your claim accepted. If you suffered no loss due to the insurer's bad faith actions, then you do not have a legal claim.
Examples of Bad Faith Insurance Practices
Insurance companies may engage in bad faith insurance settlements by:
Denying claims outright, especially without explanation
Delaying claims past the time limits that are stated in the policy
Requesting unnecessary information from the policyholder
Requiring the policyholder to fill out unnecessary or excessive paperwork
Offering a settlement far below the policyholder's initial claim
Refusing to pay coverages or policy limits listed in the insurance contract
Misquoting policy provisions
Misrepresenting coverage limits or policy exclusions, especially when directly questioned by the policyholder
West Virginia Insurance Coverage After a Bad Faith Settlement
If you have had your insurance claim handled in bad faith, you may be entitled to recover compensation. Your damages for an insurance company's bad faith actions include:
The benefits or coverage that you initially sought from the insurance company.
Costs to cover the expenses that were not paid when your insurance claim was delayed or denied. These costs can include interest and other charges if you had to take out credit card debt or loans to pay for the damages you had sought insurance coverage for.
Additional injury or property damage caused by the denial of insurance coverage.
Emotional distress caused by the insurance company's bad faith actions.
In rare cases, you may also be entitled to an award of punitive damages if the insurer's bad faith actions were done in a malicious or intentionally fraudulent manner.
When Should You Contact an Insurance Lawyer?
If you have filed an insurance claim and the insurer has responded with what appears to be one or more bad faith insurance practices, contact a lawyer as soon as possible.
In some cases, your dealings with the insurance company might simply be caused by a misunderstanding that can be cleared up by an attorney. If the insurance company is seeking to unreasonably deny or delay your claim, an experienced lawyer can fight to get you the compensation and benefits you deserve.
Talk to Our Wheeling Bad Faith Lawyers at Jividen Law Offices Today
When have trouble getting your claim processed or accepted by the insurance company, our Wheeling bad faith insurance claim attorneys can help you by:
Thoroughly investigating your underlying insurance claim and the insurance company's actions to secure evidence we can use to establish your claim
Working with experts in the insurance industry to help us develop a strong, persuasive argument to show the insurance company's unreasonableness in handling your claim for benefits
Notifying the insurance company of your claim of bad faith and aggressively negotiating for a settlement that provides you with fair and full compensation of your underlying claim and the damages you suffered when the insurer acted in bad faith
Preparing to take your case to court and to trial, if a fair and full settlement cannot be reached on your behalf
If you have had an insurance claim wrongfully denied or delayed in West Virginia, get a free, no-obligation consultation with the Wheeling bad faith lawyers at Jividen Law Offices, PLLC. You can discuss the details of your case and learn how our experienced legal team might help you recover the benefits and compensation you deserve.