Truck Accident Attorneys in Wheeling, WV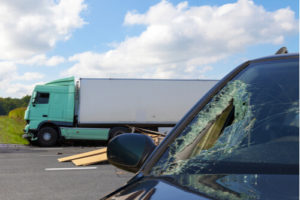 Commercial trucks perform the vital job of transporting goods and materials across West Virginia and the country. Most truck drivers and trucking companies safely perform this important work. However, a single act of carelessness or recklessness by a truck driver can quickly lead to an accident that leaves victims with serious, life-altering injuries.
Why Truck Accident Claims Are More Complex
You might think that a truck accident is no different from any other kind of motor vehicle accident. However, a truck accident claim often turns out to be far more factually and legally complex than the average car accident case.
Truck accident claims are more complex for these reasons:
Accident victims tend to suffer more severe injuries. The force imparted by a large truck in a collision often causes the occupants of the other vehicle in the crash to suffer more severe injuries than an accident involving another passenger vehicle. More severe injuries mean that accident victims incur greater financial damages. That makes it more likely that the at-fault parties will contest responsibility to reduce their financial liability. Finally, severe injuries take longer to treat. That means accident victims may still be undergoing treatment as a settlement is negotiated or a trial is under way. Accident victims and their attorneys will need to ensure that any compensation award provides money for the accident victim's future damages.
Truck accidents require the review of more types of evidence. Commercial trucks and the trucking industry generate a lot of documents and data. That information must be reviewed to ensure the acts of negligence or recklessness that triggered your crash are identified.
Truck accidents have more potentially liable parties. The complex and highly regulated nature of the trucking industry means that many parties are involved in getting trucks and goods from one place to another. Depending on the cause of the accident, any one of these parties may be responsible for causing the crash. Sometimes, several of these parties may share liability for an accident. An experienced Wheeling truck accident lawyer will need to sift through the evidence in the case to determine what caused the accident. The attorney can then determine which party or parties bear liability for the crash.
Who Can Be Held Liable for a Truck Accident?
The trucking industry uses multiple parties and companies to get trucks and their cargo from one place to another. An act of negligence by one or more of these parties can lead to a catastrophic truck accident.
Parties that may share liability for a truck accident include:
The truck driver, who can be held liable for negligently operating the rig.
The trucking company, which can be held liable for the driver's negligence if the driver is considered an employee of the trucking company. The trucking company may also be held responsible for negligence if it instructs the driver to operate in an unsafe or unlawful manner, such as speeding or driving past hours-of-service limitations. The trucking company may also be liable if it hires a driver it knows or should know poses a significant risk of unsafe driving.
The truck owner (if different from the truck driver or trucking company), who might be held responsible if negligent maintenance of the truck causes an accident.
The freight company that loads the truck's cargo, if an improper or unsafe load triggers an accident.
The truck's mechanic (if different from the trucking company or truck owner), if an accident is caused by negligent maintenance.
The truck's manufacturer, or a manufacturer of a part in the truck, if an accident is triggered by a defective part.
Evidence We May Use
The complex nature of commercial trucks means that our attorneys must review many more pieces of evidence. That gives us the full picture of a truck accident and ensures that we have properly identified the cause or causes of your truck accident.
Examples of evidence in a semi-truck accident claim include:
The truck driver's logbook, which shows federal hours-of-service limitations. Driving past those limitations may indicate the driver was fatigued when the accident occurred.
The truck driver's toxicology report, if the driver is ordered to undergo an alcohol or drug screen following an accident.
The driver's employment and driving records, which may show a history of negligent, reckless or unsafe driving.
The truck's "black box," or electronic data recorder, which may contain data about the truck's speed, acceleration and braking inputs. That data can be used to demonstrate that the truck driver made an error or committed an act of negligence before the crash.
The load manifest, which can show if the truck was overloaded or if the cargo was improperly loaded, balanced or secured.
The truck's maintenance logs, which can show if maintenance was not performed.
We may also use other pieces of evidence common to other motor vehicle accident cases, including the police accident report, accident scene photos, vehicle damage reports, eyewitness statements, and your medical records from the treatment of your injuries.
Demanding Full Compensation for Your Injuries
Being injured in a truck accident can leave you with significant financial and personal damages. Our truck accident lawyers will fight to ensure that you receive full compensation for your injuries and these damages:
Past, ongoing, and future medical expenses
Lost wages and income for missed work
Lost earning capacity due to being disabled from returning to work
Pain and suffering
Loss of enjoyment and quality of life
Property damage, including damage to your vehicle
West Virginia Statute of Limitations on Truck Accident Lawsuits
Under West Virginia's statute of limitations, you generally have two years from the accident date to file a lawsuit against those responsible for the crash. Minor children who are injured in truck accidents have two years from their 18th birthday to file a claim.
If you file your lawsuit after the statute of limitations expires, the court will almost certainly dismiss your lawsuit. When that happens, you permanently lose your right to seek financial compensation in court.
What to Do If You Have Been Hurt in a Semi-Truck Accident
After you have been injured in a semi-truck crash, take the following steps to help protect your right to later pursue a compensation claim for your injuries and damages:
Call 911 or the local/state police. If you've been hurt, call 911 for paramedic assistance. Otherwise, you can contact the local or state police directly to send an officer to the scene to prepare a police accident report. Be sure to request a copy of the report from the police department afterwards.
Get the truck driver's information. Get the name, license and registration information and contact information for the trucking company. Also get the names, contact information and insurance information for any other drivers involved in the crash.
Document the accident scene. If safe to do so, photograph or video details from the scene, including the resting positions of the vehicles in the crash, damage to the vehicles, any skid marks on the road, any traffic controls at the scene, as well as the weather, traffic and road conditions. Also document any visible injuries you have suffered.
Get examined by a medical professional. You may have declined paramedic assistance at the scene. However, follow up with your primary physician or a doctor at your local emergency room, even if you do not feel as though you were seriously hurt. The shock of the accident can release adrenaline that masks the pain of injuries. A doctor may be able to examine you and diagnose injuries you do not yet feel. Promptly diagnosing your injuries allows you to persuasively argue that those injuries were caused by the accident.
Notify your insurance company of the accident. Even if you were not responsible for the crash, you may have an obligation to timely notify your insurer of the accident. You may later need to make a claim against coverages under your own policy.
Contact a Wheeling truck accident lawyer from Jividen Law Offices, PLLC as soon as possible. We can quickly get to work securing the critical evidence in your case. We can also begin pursuing the financial compensation you need and deserve.
Common Causes of Truck Accidents
Commercial trucks require experience, skill, and care to operate. When truck drivers intentionally or carelessly operate their rigs in an unsafe manner, a catastrophic accident can be the result.
Common causes of truck accidents include:
Speeding
Drowsy or fatigued driving
Distracted driving
Driving under the influence of drugs or alcohol
Inexperience with operating a commercial truck
Unsafe lane changes
Unsafe turns, including failing to yield to oncoming traffic, failing to signal, or turning wide on turns
Following too closely (tailgating)
Improper or postponed maintenance of the truck
Overloaded, unbalanced or improperly secured cargo, which may cause the driver to lose control of the vehicle
Defective truck parts
The force of a collision with a large commercial truck, can cause catastrophic, life-altering injuries for the occupants of smaller vehicles involved in the crash. Examples of some serious injuries suffered by truck accident victims include:
Broken bones
Soft tissue injuries, such as dislocated joints, and sprains and tears of muscles, ligaments and tendons
Neck and back injuries, including disc hernias and ruptures
Spinal cord injuries and paralysis
Internal organ injury or internal bleeding
Head injuries
Traumatic brain injury
Burns, such as road rash if an accident victim is ejected from their vehicle, or if the accident results in the victim's vehicle catching on fire
Amputations
These and other serious injuries can leave accident victims with lifelong debilitating conditions. For that reason, our Wheeling truck accident lawyers aggressively pursue the maximum compensation possible on behalf of our injured clients.
How Our Wheeling Truck Accident Lawyers Can Help You
When you have been involved in a truck accident that was not your fault, the Wheeling truck accident lawyers can help you recover financial compensation by:
Thoroughly investigating your accident to recover all the pieces of evidence that we need to review for your case.
Working with trucking and accident reconstruction experts to sift through the evidence and determine how your accident occurred.
Identifying the parties responsible for your crash and injuries.
Identifying all potential sources of compensation for your injuries. Many trucking companies have layered insurance policies that make it difficult to determine the total amount of coverage available to you.
Collaborating with other experts in medical, vocational and financial fields to calculate your total damages.
Filing your claims with the at-fault parties and insurance companies, and aggressively negotiating with insurance adjusters and defense attorneys to get you a fair and full settlement.
Preparing your case for trial, if it becomes necessary.
Learn more about how our experienced attorneys pursue the maximum compensation you deserve for your injuries and damages. Get a free initial consultation with the Wheeling truck accident lawyers from Jividen Law Offices, PLLC. Call or reach out online today.