Wheeling Medical Malpractice Attorney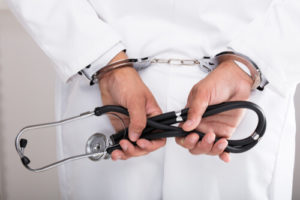 West Virginia Medical Malpractice Lawyer
We trust doctors, nurses, dentists and other healthcare providers to treat our medical conditions and keep us in good health. Most medical providers deliver effective care day in and day out. However, healthcare professionals sometimes make negligent mistakes. When a provider's mistake is one that a reasonable provider would not have committed and causes harm, the injured patient can seek compensation from the provider through a medical malpractice claim.
For more than 35 years, the medical malpractice lawyers in Wheeling, WV, of Jividen Law Offices, PLLC have pursued financial compensation for patients harmed by medical malpractice. Our law firm has the skill and experience you need to recover compensation and justice in your medical malpractice case.
With more than 50 years of combined legal experience, our medical negligence lawyers have successfully helped many clients secure financial recoveries. Our track record of results has earned us inclusion in Super Lawyers for nine consecutive years. We have also earned membership in the Million Dollar Advocates Forum, which recognizes attorneys who have obtained million-dollar recoveries for their clients.
We are dedicated to fighting for our fellow community members here in the Ohio Valley. Contact us today to set up a free initial consultation. You can discuss your legal rights and options with our West Virginia medical malpractice lawyers. Call us now or contact us online.
What Is Medical Malpractice?
Suffering from an injury due to medical negligence is a serious matter and traumatic for all parties involved. However, not every medical mistake is grounds for a malpractice claim. Medical malpractice is defined as "an action or omission by a healthcare provider, which falls well below the acceptable standard of care that other healthcare providers would have given under the same circumstances, resulting in injury to the patient."
A medical malpractice claim exists when:
A patient received medical attention that was below the defined standard of care.
The medical provider's negligence led to a serious, verifiable injury that would not have been a problem otherwise.
If you have been harmed due to a negligent healthcare provider, contact our medical malpractice firm in West Virginia for more information on how to seek compensation for your financial losses and your pain and suffering.
Process for Filing Medical Malpractice Cases in WV
Filing a medical malpractice claim in West Virginia is a more complicated process than most other types of personal injury claims. A medical malpractice claim requires that you send a "notice of claim" 30 days prior to filing a lawsuit. The notice is sent to each healthcare provider being named in the lawsuit.
The notice must include:
A statement of the grounds for the lawsuit and the theory of legal liability being asserted
A list of all healthcare providers receiving the notice
A "screening certificate of merit"
The screening certificate of merit is a written document authored by a healthcare provider who can qualify as an expert under the court rules in West Virginia. In the certificate, the authoring provider must state:
The grounds for his or her qualification as a medical expert
The grounds for their familiarity with the applicable standard of medical care in your case
An opinion, stated within a reasonable degree of medical certainty, as to how the healthcare provider(s) named in the notice of claim failed to provide treatment in accordance with the standard of care and how that failure caused your injuries
If you fail to provide a timely notice of a claim or provide a screening certificate of merit, the court may dismiss your case.
Common Types of Medical Malpractice
At Jividen Law Offices, our West Virginia medical malpractice lawyers have successfully helped clients recover compensation for these types of medical malpractice claims:
Failure to diagnose an illness or condition – This failure can allow a condition to worsen, requiring more intensive treatment or potentially allowing the condition to become terminal and fatal.
Misdiagnosis or delayed diagnosis of an illness – This malpractice may cause a patient to undergo unnecessary treatment in the event of misdiagnosis or allow a condition to worsen and cause a patient to lose the opportunity for more effective treatments.
Medication errors – Medication errors include prescribing the wrong medication or wrong dosage, pharmacist errors in filling out the prescription, or administering medication to the wrong patient.
Failure to administer medicine – This failure can be caused by a mistake of treating physicians or nurses, potentially allowing a patient's condition to worsen.
Using contaminated or defective tools and equipment – Contaminated tools and equipment can cause harmful or fatal infections, while defective tools and equipment can damage patient tissue and cause injuries.
Surgical errors – Surgery errors include injury to a patient by mistakes during the medical procedure, often due to inexperience or unfamiliarity with a procedure.
Operating on the wrong patient or body part – This mistake may be made because of a failure to properly mark the correct surgical site or failing to follow other procedures to confirm patient identity and the procedure to be performed.
Leaving surgical instruments inside a patient – Surgical teams sometimes fail when closing up a patient to account for all equipment and materials used during the procedure.
Birth injuries – Birth injuries include brachial plexus injuries, broken bones, Bell's palsy and oxygen deprivation that leads o brain damage.
Administering medicines with negative cross-reactions – Prescribing physicians may fail to conduct full patient histories or consult reference guides to rule out negative interactions between drugs or potential allergic reactions to medications.
Anesthesia injuries – These injuries are caused by administering too much anesthesia that results in declining vital signs or too little anesthesia, which can allow the patient to become conscious during a procedure.
Compensation in a Medical Malpractice Case
If you have been harmed by a medical provider's malpractice, you may be entitled to compensation for these damages:
Costs to treat the injuries or conditions caused by the malpractice
Lost wages for time missed from work while recovering from the harm caused by the malpractice
Lost earning capacity, if the injuries caused by the malpractice prevent you from being able to return to your full working capacity
Pain and suffering, or the physical and mental distress caused by the injuries and other harm you've endured
Lost quality of life, such as due to physical disfigurement or disability
West Virginia law places a cap on the damages that you can recover in a medical malpractice case. You can recover no more than $250,000 on non-economic damages (such as pain and suffering or lost quality of life) or $500,000 of non-economic damages if you suffered a permanent and serious disfigurement, disability, or had a family member who was fatally injured.
Understanding Your Family's Rights After a Wrongful Death Caused by Malpractice
If your family has lost a loved one due to negligent care from their medical providers, compensation and justice is obtained through a wrongful death claim. A wrongful death claim can be thought of as a personal injury claim (such as a medical malpractice claim) that the injured person cannot bring because of the injury-related death.
In West Virginia, a wrongful death claim may be filed in court by the personal representative of your loved one's estate. That person is usually the estate's executor or administrator and is often a spouse, child, sibling or parent. In a wrongful death claim, eligible surviving family members are entitled to receive a share of the compensation from the wrongful death claim. These family members include:
A surviving spouse
Surviving children (including adopted children)
Surviving parents (including adoptive parents) and siblings
Any other family members financially dependent on the decedent at the time of their death
A wrongful death claim following medical malpractice entitles your family to recover compensation for these losses:
The emotional distress, anguish and sorrow caused by your loved one's passing
The loss of your loved one's society, companionship, comfort, guidance and advice
Your loved one's funeral and burial expenses
The loss of your loved one's expected financial contributions and value of services to the family and household
You and your family may also be entitled to recover many of the same damages that are available in a typical medical malpractice claim, such as:
The costs to treat the injury and harm caused by the malpractice
Lost wages for time missed from work between the date of injury and your loved one's passing
The conscious pain and suffering endured by the loved one prior to death
How Our Medical Malpractice Lawyers Can Help You
If you have been the victim of medical malpractice, you do not have to pursue compensation for your injuries and damages alone. Medical malpractice claims are can be factually and legally complex. Let our experienced and knowledgeable West Virginia medical malpractice lawyers help you pursue your case by:
Conducting an independent, thorough investigation of your treatment, including recovering and reviewing your medical records
Collaborating with medical experts to determine how your medical providers breached the applicable standard of care and how that breach caused your injuries
Working with financial and vocational experts to calculate the total amount of damages for which you deserve compensation
Drafting the notice of claim on your behalf and ensuring that your claim is properly filed under state law
Aggressively pursuing a settlement that provides you with fair and full compensation
Preparing your case to go to trial, if necessary, and vigorously advocating for you before a judge and jury to secure a verdict in your favor
At Jividen Law Offices, PLLC, we understand the difficulties that a mistake by your medical provider can place on you. You may have to undergo additional, more intensive medical treatment. You may also be facing financial difficulties because of medical bills and lost income from missed work.
We do not want to place an additional burden on you. That is why you pay us nothing unless and until we recover compensation for you in your case. As you recover from the harm you have suffered, you can rest assured that you have a dedicated and experienced legal team in your corner.
What Is the WV Statute of Limitations for Medical Malpractice?
The West Virginia medical malpractice statute of limitations is two years from the date of the negligent treatment you received (or the last date of treatment for ongoing negligent treatment). This two-year period may not begin to run until you become aware of the healthcare provider's malpractice or reasonably should have become aware of it.
You cannot file your claim later than 10 years after the date (or last date) of negligent treatment. This deadline is called the "statute of repose."
A minor under the age of 10 who is injured by medical malpractice must have a lawsuit filed on the minor's behalf within two years of the date of injury or by the minor's 12th birthday, whichever is later. The minor is not subject to the 10-year statute of repose.
If you fail to timely file your lawsuit under West Virginia law, the court may dismiss your case. When that happens, you will permanently lose your right to pursue compensation in court.
Talk to a West Virginia Medical Malpractice Attorney Now
If you have suffered an adverse outcome due to the care provided by a physician or other healthcare provider, you may have a claim of compensation for medical malpractice. Contact Jividen Law Offices, PLLC today to schedule a free, no-obligation initial case review.
You can talk to one of our knowledgeable West Virginia medical malpractice attorneys. You will also learn how our firm can help you pursue maximum compensation for the harm you have endured.