Wheeling Wrongful Death Attorneys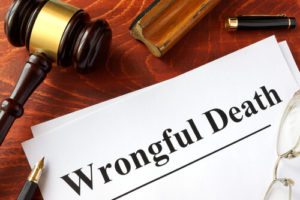 West Virginia Wrongful Death Lawyer
Losing a loved one is a devastating and traumatic event for any family. When your family member's death was caused by someone else's carelessness or recklessness, the pain of their passing can be overwhelming as you realize that the death could have been avoided.
Fortunately, the law allows you and your family to seek financial compensation from those responsible for your relative's death. Compensation can help ease the financial burdens and bring a measure of justice against the at fault party.
This type of compensation claim is known as a wrongful death case. A wrongful death claim is much like the personal injury claim that the deceased person could have brought had he or she survived the injury or illness.
For more than 35 years, the West Virginia wrongful death lawyers of Jividen Law Offices, PLLC have aggressively pursued financial compensation and justice on behalf of families across the Ohio Valley region of West Virginia. Our attorneys know the emotional and financial burdens that losing a loved one can place on a family. When you choose our firm to represent you in your wrongful death case, your family does not have to pay us anything unless and until we recover compensation for you.
Our firm has an extensive track record of successful results obtained on behalf of our clients. We have been honored by inclusion in Super Lawyers for nine consecutive years. We are also members of the Million Dollar Advocate Forum, which recognizes attorneys who have secured million-dollar settlements and verdicts for their clients.
Contact Jividen Law Offices, PLLC today for a free case review. You can talk with one of our West Virginia wrongful death lawyers, and learn how our firm can help you and your family. Call us now or contact us through our website.
Who Can File a Wrongful Death Lawsuit in West Virginia?
In West Virginia, a wrongful death lawsuit must be filed by the personal representative of the estate of the deceased person. Usually, the personal representative is the executor or administrator of the estate.
Wrongful death lawsuits are brought on behalf of the surviving family members who are entitled under West Virginia law to a share of the compensation obtained in the lawsuit. These eligible surviving family members include:
A spouse
Children, stepchildren, and adopted children
Parents (including adoptive parents) and siblings
Any other family member financially dependent upon the decedent at the time of the death
What Do You Have to Prove in a Wrongful Death Case?
Under a wrongful death claim, you must prove that your loved one's death was directly and proximately caused by negligent, reckless, or intentional actions of another party. Most wrongful death cases are based on a claim that the at-fault party committed a reckless or negligent act that caused the decedent's death. Recklessness by a liable party involves the conscious disregard of a substantial risk that the party's actions or omissions would cause the injury or death of the decedent.
In a wrongful death case based on negligence, you must prove these four elements:
Duty – The party alleged to be at fault for your loved one's death must have owed your loved one a duty of care. For example, in a wrongful death case based on a motor vehicle accident, the at-fault driver would owe a duty of care to operate a vehicle in a lawful and safe manner. In a medical malpractice case, a medical provider owes a duty to render treatment in accordance with the accepted standard of care.
Breach – The at-fault party must have committed some act or omission that breached or otherwise failed to live up to the duty of care owed to your loved one.
Causation – The at-fault party's negligence must both directly and proximately cause your loved one's death. In other words, your loved one's death would not have occurred but for the at-fault party's actions or omissions.
Damages – Your loved one and your family must have suffered some form of damage that can be compensated with a money award.
Demanding Full Compensation in a Wrongful Death Claim
In a wrongful death claim, the eligible surviving family members may be entitled to compensation for these and other damages:
Sorrow, anguish, and emotional distress caused by your loved one's passing
The loss of your loved one's companionship, comfort, guidance, and society
Funeral and burial expenses
The reasonably expected value of the wages and benefits your loved one would have earned and contributed to the family and household had he or she lived
A wrongful death claim may also seek compensation for many of the same damages that could have been recovered by the decedent in a personal injury claim:
Treatment costs for the last injury or illness
Lost wages for missed work from the time of the last injury or illness to death
Conscious pain and suffering experienced by the decedent prior to death
Damaged, destroyed, or lost property from the accident that led to the loved one's passing
The compassionate West Virginia wrongful death settlement attorneys at Jividen Law Offices, PLLC review your case and advise you on the compensation you may deserve.
West Virginia Statute of Limitations on Wrongful Death
Under West Virginia's statute of limitations, a wrongful death lawsuit must be filed within two years of the date of your loved one's death. This two-year limitation may not begin to run under certain narrow circumstances. For instance, it may not begin to run if the party or parties responsible for your loved one's death actively concealed their liability.
If a wrongful death lawsuit is not filed before the limitations expires, the court will almost certainly dismiss your case. When that happens, you lose your right to seek compensation in court.
Common Causes of Wrongful Death
At Jividen Law Offices, PLLC, our West Virginia wrongful death lawyers frequently help families grieving from the loss of a loved one due to these and other causes of wrongful death:
No matter what circumstances caused your loved one's fatal injury or illness, when another party was responsible for the death, our firm can help your family heal through the process of recovery.
How Our Wrongful Death Lawyers in Wheeling, West Virginia, Can Help You
When you and your family are grieving the loss of a relative, you should not also have to deal with the burdens and headaches that come with a legal claim. The West Virginia wrongful death lawyers of Jividen Law Offices, PLLC can go to work on your behalf by:
Thoroughly investigating the facts and circumstances of your loved one's death
Recovering evidence to help us determine how your loved one died and who bears responsibility for their death
Collaborating with experts in fields such as accident reconstruction, engineering, medicine, vocational consulting and finance to help build a strong, persuasive legal argument to show how the other party was responsible for your loved one's death
Using financial experts to show the extent of damages your family has incurred and deserve to be compensated for
Filing your claim with the responsible parties and their insurers and aggressively pursuing a settlement that provides you with fair and full compensation
Vigorously advocating on behalf of your family in court, if necessary, to get you the financial recovery you deserve
Our attorneys will provide dedicated legal representation throughout your family's case. We will make ourselves available to you to answer any questions you may have about your claim and your rights. We will always keep you posted on the status of and updates in your case.
If your family has lost a loved one due to the careless or reckless actions of someone else, a wrongful death lawyer in Wheeling, WV, can help. Contact Jividen Law Offices, PLLC today. We will provide a free, no-obligation initial consultation for you. You can discuss your case with an experienced member of our wrongful death legal team.