Fatal Truck Accident Lawyer in Wheeling, WV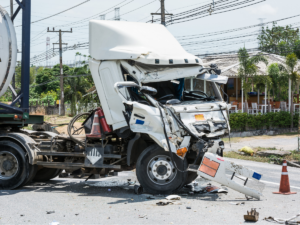 A significant number of large commercial trucks pass through Wheeling, West Virginia on Interstate 70, a major east-west transportation corridor. Unfortunately, truck accidents on I-70 and I-470 are common.
While some truck accidents cause only minor injuries, others prove to be fatal. In crashes involving tractor-trailers and automobiles, the occupants of the smaller vehicles typically suffer the brunt of the injuries because of the size and weight of 18-wheelers.
If you have lost a family member in a fatal truck accident, you may be struggling to cope with the unexpected loss. Your family may be experiencing financial stress if your loved one helped support the household. If your loved one sustained fatal injuries in a crash caused by a negligent truck driver, you may be entitled to demand significant compensation. We understand that no amount of money can make up for the loss of a loved one. Buy compensation sought in a wrongful death claim can help you regain financial stability and find a measure of closure.
The attorneys at the Jividen Law Offices, PLLC, have more than half a century of combined legal experience helping West Virginians move forward after devastating accidents and losses. Let us offer trusted guidance during this difficult time. Call us today for your free initial consultation.
Truck Accidents & Fatalities in West Virginia
West Virginia sees its fair share of fatal truck accidents every year. On average more than 40 people died in large truck accidents each year in West Virginia in recent years.
Last year, a 55-year-old Wheeling man was pronounced dead at the scene of a tractor-trailer accident in Bridgeport. According to local news reports, the tractor-trailer was navigating a curve along eastbound US 250 when it overturned into westbound traffic lanes. John Santimarino Jr., of Wheeling, was traveling westbound when the tractor-trailer toppled over and struck his van. Santimarino died at the scene, and another unidentified passenger was left in critical condition.
Other statistics from the National Highway Traffic Safety Administration (NHTSA) illustrate the prevalence of fatal truck wrecks throughout West Virginia:
In a single recent year, 11.3 percent of all vehicles involved in fatal crashes were large trucks. That percentage exceeds the national average of 9.8 percent.
Of the 43 individuals who died in fatal West Virginia truck accidents in a recent year, 72 percent were individuals in other vehicles or people on foot.
Among commercial truck drivers who died in truck crashes, two-thirds of the drivers died in single-vehicle truck accidents.
When Does a Truck Accident Claim Turn into a Wrongful Death Claim?
Generally speaking, a wrongful death claim exists any time the victim would have had grounds for a personal injury claim if they had survived.
To have a valid wrongful death claim after a fatal truck accident, you must prove that:
A person died as a result of the accident.
The truck driver or another party was negligent in some way, such as by speeding, following too closely, failing to yield, or making an improper lane change.
The truck driver's negligence directly contributed to the victim's death.
You suffered real losses as a result of the victim's death, such as funeral expenses or the loss of the deceased's income.
Wrongful Death Laws in West Virginia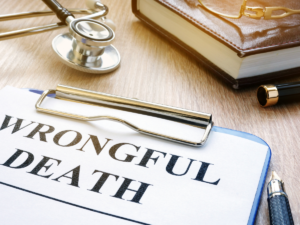 It's important to note that a wrongful death claim is a civil case. It is entirely separate from any criminal charges arising from a fatal traffic accident such as vehicular homicide or manslaughter. West Virginia law specifies that wrongful death claims are allowed even when someone dies due to criminal homicide or manslaughter. The civil wrongful death case proceeds separately from the criminal prosecution.
While a conviction of criminal charges may result in fines or jail time, a court finding o  liability in civil cases may result in an award of compensation to the survivors of a wrongful death victim. Depending on the circumstances, the claimants in wrongful death cases may seek compensation for:
The loss of the deceased's income, including the projected value of any wages or benefits they would have earned if they had survived
The loss of the deceased's companionship, comfort, guidance, and advice
The loss of the deceased's care, assistance, services, and protection
Any medical bills incurred on behalf of the deceased as a result of the accident
Reasonable funeral and burial expenses
The sorrow, mental anguish, and solace of surviving loved ones
When West Virginia courts consider wrongful death cases, they apply a modified comparative negligence doctrine to determine whether family members are entitled to compensation. Under this doctrine, the victim's estate is eligible for compensation even if the victim was partially at fault. However, the victim's estate is not eligible for compensation if the deceased person was more than 50 percent at fault for the fatal accident.
Who Can be Held Liable for a Fatal Trucking Accident in Wheeling, West Virginia?
Truck accident cases tend to be more complicated than car accident cases because of the number of parties involved in the operation of commercial trucks. In addition to the truck driver, other individuals and organizations that may have contributed to a truck accident include:
A trucking company that owns the truck or hires the driver
A cargo loading team responsible for balancing and securing cargo
A manufacturer of any critical truck components
A repair shop that performed shoddy maintenance on the truck
A government agency responsible for maintaining local roads
It is important to have an experienced attorney who understands insurance company tactics and can counter attempts by the other side to shift the blame for the truck accident to avoid liability.
Who Can File a Lawsuit After a Fatal Truck Accident?
Under West Virginia law, the personal representative of the estate may bring a wrongful death claim on behalf of the deceased's estate. If the wrongful death suit is successful, the following individuals are eligible to recover compensation:
A surviving spouse
Surviving children, including stepchildren and adopted children
Surviving parents and siblings
Any surviving family members who were financial dependents of the deceased
The individual who acts as the personal representative is typically often the estate executor identified in the deceased person's will. However, if the victim died without a valid will, the probate court may appoint a personal representative.
Contact Us Today for the Legal Guidance and Help You Need
If you are considering a wrongful death claim in West Virginia, it's best to consult a knowledgeable attorney as soon as possible. Wrongful death cases involving truck accidents tend to be complicated to investigate and prepare. You have only a limited amount of time to bring a case.
If you have suffered the loss of a loved one as the result of a truck accident, you may not know where to start. Let a West Virginia wrongful death lawyer at Jividen Law Offices, PLLC offer the trusted legal guidance you need. For more information, contact Jividen Law Offices, PLLC, to get started with your free initial case review.