Wheeling Birth Injury Attorney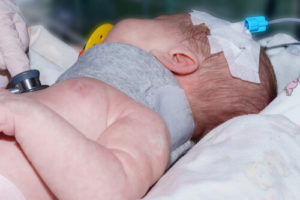 West Virginia Birth Injury Lawyer
If your child suffers an injury prior to, during, or immediately after delivery, it is natural to be distraught and concerned. You wonder whether the child's injury can be treated and what effect it will have on the newborn's life.
Then you discover that your child's injury was caused by the negligence of your trusted doctor, nurse or another healthcare provider. Your feelings may rightfully turn to shock and anger. If your child was injured and a medical professional is to blame, you have the right to seek answers and compensation through a birth injury claim.
For more than 35 years, the attorneys of Jividen Law Offices, PLLC have helped families across the Ohio Valley region of West Virginia. The firm's clients include parents whose children have suffered from birth injuries inflicted by the negligence of medical providers.
When you choose our firm to represent your family in your birth injury case, we will provide aggressive representation from start to finish. You will never owe us anything unless and until we recover compensation on behalf of you and your family.
Contact Jividen Law Offices, PLLC today to discuss your family's legal rights and options. Get a free case evaluation with a birth injury lawyer in Wheeling, WV by calling us or contacting us online now.
When Is a Birth Injury Malpractice?
The parents of a child who suffers a birth injury may understandably want to hold someone responsible for the newborn's harm. However, not all baby injuries during birth are caused by a medical provider's mistake.
An error or mistake by a healthcare provider constitutes malpractice when the provider's actions fail to comply with the applicable standard of care. The standard of care is usually defined as the actions that another medical professional of similar training and experience would have taken under identical circumstances. In other words, if other healthcare providers would have acted the same way when treating your baby, a malpractice claim will not be successful.
A medical professional's conduct may constitute malpractice when a birth injury is caused by:
Failing to monitor the mother for complications or infections during pregnancy
Failing to identify treatable birth defects in utero
Failing to monitor the baby's oxygen levels during and following delivery
Improperly positioning the baby for delivery
Failing to monitor for signs of complications during delivery
Improperly using forceps and other tools or instruments to assist with delivery
How a West Virginia Birth Injury Lawyer Can Help You
The West Virginia birth trauma attorneys of Jividen Law Offices, PLLC can help you and your family recover financial compensation and obtain justice when your child has suffered birth injuries because of a medical providers' negligence.
Our firm can help you pursue your claim by:
Investigating your case, including reviewing medical records in collaboration with experts to identify whether and how medical malpractice caused your child's birth injury
Working with financial and vocational experts to calculate the extent of your child's and your family's damages
Ensuring your legal claim is properly filed, including obtaining a screening certificate of merit and sending notices of claim to the at-fault healthcare providers
Aggressively negotiating for a settlement that provides your family with fair and full compensation
Preparing your case to go to court and to trial, if necessary
Our Firm Demands Maximum Compensation for Families
If your baby has suffered a birth injury due to a healthcare provider's malpractice, your family may be entitled to recover compensation for these damages:
Costs of treatment of the birth injury, including extended hospital stays, surgeries or other medical procedures, as well as special education services and physical, occupational or speech therapy
Costs of medical or mobility equipment, home renovations to accommodate disabilities, and other out-of-pocket expenses
Pain and suffering caused by the birth injury
Lost quality of life arising from disfigurements or disabilities
In West Virginia, compensation for pain and suffering and lost quality of life is capped at $250,000, or $500,000 if the birth injury results in severe or permanent injury or disability.
Common Types of Birth Injuries
Birth injuries that are commonly suffered include:
Cerebral palsy – An injury caused by damage to the brain due to a lack of oxygen, this injury often leads to permanent muscle weakness, spasms and motor skills issues.
Caput succedaneum – A swelling of the soft tissues around the baby's scalp, caused by pressure put on the head as the baby travels through the birth canal. The injury is sometimes caused by suction tools and forceps used to assist with delivery.
Cephalohematoma – An injury involving bleeding between the skull and the membrane covering the skull. Although the blood is eventually reabsorbed over time, a large bleed can cause a baby to suffer jaundice when the blood cells break down.
Fractures – Common fractures include breaking of the collarbone.
Bruising and lacerations – These injuries can be caused by improper or overly-aggressive use of forceps and other delivery tools.
Facial paralysis – This injury is caused by pressure put on the baby's face during delivery, either naturally or through the use of forceps. Symptoms include the baby's inability to close the eyelid on the affected side of the face.
Brain injuries – Brain injuries can be caused by forceful trauma on the head during delivery or due to the lack of oxygen during delivery. The injury may occur when the baby's head and neck are wrapped by the umbilical cord during delivery.
Brachial plexus injuries – These injuries include damage to the nerves that extend into the arms and hands, typically caused by difficulties in delivering the baby's shoulder through the pelvis. Bruising and swelling of the nerves may result in temporary difficulties that go away after a few months. Tearing can result in permanent damage and may require surgery and physical therapy for treatment.
Stillbirth and neonatal death – Stillbirth involves the delivery of a baby that has died in the womb. Death is often caused by infections, birth defects or complications such as preeclampsia.
West Virginia Statute of Limitations on Birth Injury Claims
Under West Virginia's statute of limitations, you generally have two years from the date of an injury to file a medical malpractice claim. However, injuries to children under the age of 10 caused by medical malpractice may be brought in a lawsuit filed before the child's 12th birthday.
If you fail to file your lawsuit before the statute of limitations expires, the court may permanently dismiss your case.
Talk to a West Virginia Birth Injury Lawyer Now
Has your child suffered a birth injury due to the negligence and malpractice of your medical providers? If so, do not wait another day to schedule a free, no-obligation consultation with a West Virginia birth injury lawyer at Jividen Law Offices PLLC.
You can discuss your claim in detail and learn how our firm can help your family recover maximum compensation for the harm your baby has suffered. Call or contact us online today.