Wheeling Work Injury Attorneys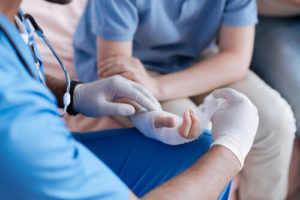 West Virginia Work Injury Lawyer
If you have been injured at work in West Virginia, an experienced work injury lawyer can help you seek the medical treatment and compensation you need and deserve.
For more than 35 years, the West Virginia work injury lawyers of Jividen Law Offices, PLLC have helped injured workers throughout the Ohio Valley. We have helped our clients pursue personal injury claims against the third parties who are liable for our clients' harm and suffering. Our compassionate attorneys work tirelessly to pursue full compensation on your behalf.
Our legal team has a combined 50 years of legal experience. We do whatever it takes to seek the results you deserve. Our attorneys have an extensive track record of successful settlements and verdicts. Our firm has been recognized for the results we have achieved on behalf of our clients. We have been listed in Super Lawyers for nine consecutive years. We are also members of the American Institute of Personal Injury Attorneys and the Million Dollar Advocates Forum.
Contact Jividen Law Offices, PLLC today by phone or online. Get a free case evaluation with one of our experienced West Virginia work injury lawyers. You will learn how our legal team may be able to help you with your work injury case. You will also learn how we can help you pursue full compensation for your injuries and damages.
Can You Sue After a Workplace Injury?
If you have suffered an on the job injury, you may have many questions about your legal rights and options. Can you file a lawsuit? What kind of compensation are you entitled to?
At a minimum, injured workers are entitled under West Virginia's law to receive workers' compensation benefits, regardless of whether you or your employer was at fault for your injury. A workers' compensation claim is considered a "no-fault" type of claim.
However, in exchange for those benefits, you and other injured workers give up certain rights under the workers' compensation system. For instance, as an injured worker you are barred from filing a personal injury claim against your employer – unless your employer intentionally harmed you. That means any action against your employer is limited to the workers' comp claim.
Workers' compensation provides fewer benefits than may be available in a personal injury claim. Workers' comp benefits only provide partial wage replacement. They do not provide compensation for non-economic damages, such as pain and suffering or lost quality of life.
While you are not entitled as an injured worker to sue your employer in a personal injury claim, a personal injury claim may be allowed against other parties. You may be entitled to file a personal injury claim against a third party who is responsible for your injury. For example, if you are injured on the job by a negligent driver, you may be entitled to file a motor vehicle accident lawsuit.
A personal injury claim will allow you to recover the full extent of your economic and non-economic damages. Those damages cover the full extent of your lost income and earning potential, as well as lost enjoyment and quality of life, and pain and suffering.
At Jividen Law Offices, PLLC, we can help you pursue full compensation if you have a personal injury claim arising from your workplace accident.
How a West Virginia Work Injury Attorney Can Help
If you have suffered a work injury due to the negligence of a third party, the West Virginia work injury attorneys of Jividen Law Offices, PLLC are here for you. We can help you recover financial compensation for you. If you hire our firm for your case, our attorneys will help by:
Thoroughly investigating the facts and circumstances of your work injury, securing and reviewing all available evidence. For an instance, an OSHA violation may mark the difference in your case.
Identifying whether you may have a viable personal injury claim against a third party for your accident and injury
Working with accident reconstruction and engineering experts to develop a strong, persuasive case to show how your injuries occurred and who bears legal liability
Consulting with medical, vocational and financial experts to determine the full extent of your damages
Filing your claim with at-fault parties and insurance companies and pursuing a fair and full settlement of your damages
Taking your case to court and to trial, if litigation represents the best option for ensuring that you receive the maximum financial compensation possible in your case
As you recover from a serious injury, you may have medical bills piling up while you are unable to work or earn a living. At Jividen Law Offices, PLLC, we believe you should not have to worry about how you will pay for your legal help as you pursue your work injury claim. When you choose us to help you with your case, you will not owe our firm a penny unless and until we recover compensation for you. You can rest easy knowing that you have experienced attorneys protecting your rights and interests.
Common Types of Workplace Injuries in West Virginia
Workers in West Virginia work in some of the most dangerous industries in the country. When a workplace accident occurs, workers face the risk of serious and potentially catastrophic injuries. Common types of workplace injuries include:
Broken bones
Dislocation injuries
Soft-tissue injuries, including sprains and tears of tendons, ligaments, and muscles
Repetitive stress injuries
Neck and back injuries, including spinal disc hernias and ruptures
Spinal cord injuries and paralysis
Head injuries, including eye trauma
Traumatic brain injuries
Internal organ injuries and internal bleeding
Amputation
Most Dangerous Occupations
The most dangerous occupations in West Virginia include:
Oil and gas extraction
Forestry and logging
Steel production
Agriculture and food production and processing
Manufacturing
Construction
Truck driving
Delivery services
Police and fire services
Demanding Full Compensation for Your Workplace Injury
If you pursue a personal injury claim for your workplace injury, you may be entitled to claim compensation for these damages:
Past, ongoing, and future medical treatment costs, including emergency room and other hospital bills, doctors' appointments, surgeries and other medical procedures, pain medication, physical and occupational therapy, medical and mobility equipment, home health services, and other out-of-pocket expenses
Lost wages or income for the time that you miss from work while recovering from your work injury
Lost earning capacity, if your work injury leaves you with disabilities or other physical difficulties that prevent you from going back to your old job or earning the same wages
Pain and suffering, or the physical or emotional distress caused by your injury
Lost quality of life, due to physical disfigurements and disabilities, or the inability to take part in daily tasks or activities you once enjoyed
Our West Virginia work injury attorneys can review your case and explore what kinds of compensation you may legally deserve.
Time Limit for Filing a Work Injury Lawsuit in West Virginia
If you have suffered a work injury due to a third party's negligence or recklessness, West Virginia's statute of limitations gives you two years from the date of your accident and injury to file a lawsuit for compensation against those at fault for your injuries.
If you do not file suit before the limitations period expires, the court can dismiss your lawsuit. That means you will have lost your opportunity to pursue compensation in court for your injuries and damages.
Talk to a Work Injury Lawyer in Wheeling, WV
If you have suffered a work injury in the Ohio Valley region of West Virginia, call us or contact us online now. Get a free, no-obligation initial consultation with a Wheeling, West Virginia, work injury attorney from Jividen Law Offices, PLLC. You can discuss the details of your case and learn how our firm might be able to help you pursue compensation in your case.