Electrical Injury Lawyer in Wheeling, WV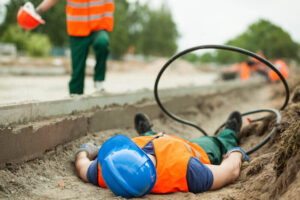 Electrocution accidents severely injure and kill people in West Virginia every year. If the victim survives, they are often left to deal with painful burns, internal organ damage, and other severe injuries that require extensive medical treatment and rehabilitation. If you suffered a serious electrical shock at work or due to someone else's negligence, you may be eligible to seek compensation for the harm you've suffered.
At Jividen Law Offices, our injury lawyers have a long track record of standing up for the people of Wheeling. We've recovered millions of dollars for our clients, and our work has been recognized by leading organizations such as the Million Dollar Advocates Forum® and Super Lawyers®. We're proud of the hard work and dedication we deliver for our clients every day. Our satisfied clients know we'll do everything we can to fight for them.
At Jividen Law Offices, your recovery is our top priority. Contact us today for a free consultation to learn how we can help you. There's no obligation, and there are no fees unless we recover money for you.
Definition of Electrical Injuries
Electrical injuries happen when a person is directly exposed to an electrical current. Electricity can cause damage to the skin, muscles, nerves, and tissues exposed to it. The severity of the injury will depend on the strength of the current and how long you're in contact with it.
While less severe injuries may take the form of tingling or light burns, more serious injuries can disrupt major organs and even cause death. Electrical injuries should always be taken seriously. If you suffer an electrocution injury, seek medical care and contact an electrical injury lawyer about your options.
Types of Electrical Injuries
Electrical injuries can take many forms depending on the type of exposure and what happens after. For example, exposure to electricity could cause someone to lose control of their muscles. While that could result in severe internal injuries, losing control could also result in falling accidents that inflict additional harm.
Some of the most common types of electrical injuries are as follows:
Burns – Burns happen in nearly every electrocution injury case. According to the MSD Manual, high-voltage exposure can cause deep burns, while lower voltage currents result in involuntary muscle contractions and mild burns.
Electrical shock – The effects of an electrical shock can range from a mild shock that leaves you with numbness or tingling to serious shocks that interfere with the operation of your internal organs.
Cardiac problems – Our hearts operate based on electrical signals. Those signals tell the heart to beat and keep it going throughout the day. But exposure to an electrical current can disrupt these signals. This can result in irregular rhythms or even cardiac arrest in serious cases.
Lung and breathing problems – In more severe electrical exposure cases, the shock may interrupt your ability to breathe. That could result in a life-threatening lack of oxygen.
Fall injuries – In many cases, those exposed to electricity work on ladders or near hazardous objects. When involved in an electrical accident, they may lose consciousness or control of their muscles, resulting in a dangerous and damaging fall.
Common Injuries After an Electrical Accident
After exposure to electricity, it's common for accident victims to suffer lasting injuries or even death. According to researchers, there are at least 30,000 shock incidents in the U.S. each year. Approximately five percent of all admissions to burn units result from electrical contact.
Exposure to electricity could result in painful injuries, including the following:
Electrocution burns – Burns can range from first-degree burns, which only affect the outer layer of skin, to third-degree burns and beyond. Those burns can penetrate deeper into the tissue and may require surgery to repair. In some cases, these burns may even result in the loss of a limb.
Nerve damage – This type of injury can quickly happen as an electrical current passes through an accident victim. Nerves conduct electricity easily, and a shock can spread throughout the nervous system. The damage can lead to loss of bodily functions and the disruption of internal organs.
Infections – Electrical shock injuries can weaken the body, and burns can create opportunities for harmful bacteria to enter. That means even a relatively minor burn could result in a life-threatening infection down the line. While doctors may be able to treat some infections, others could result in even further harm to injury victims.
Psychological injuries – An electrocution injury can result in both physical and mental injuries. Following electrocution accidents, victims may suffer memory problems, depression, irritability, and a range of other problems.
Electrocution brain injury – Exposure to electricity can have lasting impacts on a victim's brain. These include problems thinking, communicating, and handling day-to-day tasks. Severe injuries may deprive victims of their ability to earn a living or perform the activities they love.
Internal organ damage – Electrical exposure can damage a victim's heart, lungs, and other internal organs. This can directly lead to brain damage and lifelong health problems.
Disfigurement – Electrocution injuries may result in painful disfigurement for victims. While surgeries may be able to correct some of these injuries, in other cases, victims may be left with permanent reminders of the accident.
Vision injuries – An accident can result in electricity passing through a victim's eyes and the nerves that connect them to the brain. If this happens, a victim may experience loss of sight.
Broken bones – After electrocution, victims often lose consciousness or fall to the ground. That can result in arm, leg, and even spine fractures.
Causes of Electrical Injuries
Electricity is around us every day. Even though we use it all the time, it still has the power to cause us severe harm. Electrocution accidents cause deaths and injuries more often than you may think, especially in workplaces. In the home, electrical exposure hurts children daily.
Some leading causes of these accidents include the following:
Damaged electrical cords
Faulty appliances and tools
Incorrect or inadequate wiring
Loose connections
Direct exposure to power lines
Electrical cords and wiring in contact with water
Treatment for Electrical Injuries
Treatment for an electrical injury will depend on the type of injury and its severity. For example, treatment for a burn may involve dressings, antibiotics, and even surgery or skin grafts. However, doctors may need to monitor victims for several days following a severe shock. That time can help them determine whether internal organ systems such as the heart or lungs have been hurt.
West Virginia Personal Injury Statute of Limitations
If you need to bring an electrocution lawsuit for your injuries, you'll usually have two years from the date of the accident to do so. If you don't file your case within this time period, you may lose your right to bring an action. However, there may be important exceptions to this time limit, so speak with an electrocution accident lawyer about your case as soon as you can.
Who Is Liable for My Injuries After an Electrical Accident in West Virginia?
If you're injured, you may be able to seek compensation for the harm you've suffered. In the case of electrical accidents, different people and organizations could potentially be liable, including the following:
Equipment manufacturers
Electricians
Inadequately trained employees
Anyone who negligently creates a dangerous situation that injures you
After an accident, talk with an electrocution accident lawyer about what happened. They can review the details of your case, explain your rights, and identify those who may be at fault for your injuries.
Damages You Can Recover in an Electrocution Lawsuit
After an accident, your compensation can help you cover essential costs such as medical bills and lost wages. That's why it's so important to understand your rights and your options following an injury. An electrical injury lawyer can let you know what types of compensation are available. You may be entitled to seek compensation for:
Medical bill coverage including doctor's visits, medication, and therapy
Compensation for lost income and damage to your earning potential
Mental anguish
Pain and suffering
Loss of quality of life
Disfigurement
Contact a Wheeling Electrical Injury Lawyer Today
If you've suffered an electrical injury in Wheeling, contact Jividen Law Offices for a free consultation about your case. We pride ourselves on our skill, commitment to the community, and dedication to the clients we represent. With more than 50 years of combined legal experience, as well a proven track record of maximizing results, we're ready to help you understand you legal options.
After an accident, Jividen Law Firm will be here to stand up for you and your rights. Contact us now for your free consultation.