I-70 Construction Zone Accident Attorney in West Virginia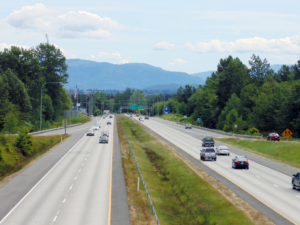 West Virginia is nearing completion on its I-70 Bridges Project, a major renovation initiative in which the state is rehabilitating 26 bridges between the Ohio State line and the Middle Creek Road area in Wheeling, WV. Ohio is also replacing the superstructure of the I-70 bridge that spans the Ohio-West Virginia border between Bridgeport, Ohio, and Wheeling.
Highway construction zones can be dangerous places to encounter large commercial trucks. The I-70 corridor in the Wheeling area has seen numerous truck accidents. A recent analysis of data from the National Highway Traffic Safety Administration said I-70 was No. 9 among U.S. interstate highways with the most motor vehicle fatalities. The report said there were 134 fatal accidents on I-70 in 2020 and specifically cited the I-70 bridges project in Wheeling and at the state border.
If you have been injured in a car accident in a construction zone on I-70 involving a commercial truck, an I-70 construction zone accident lawyer from Jividen Law Offices, PLLC in Wheeling can assist you. Our truck accident lawyers have extensive experience helping West Virginians move forward after devastating accidents and losses. Let us offer trusted guidance during this difficult time. Call us today or contact us online for your free initial consultation.
About Interstate-70 in West Virginia
Interstate 70 is a major east-west interstate starting outside of Baltimore, Maryland, and ending at I-15 in Cove Fort, Utah. It crosses West Virginia in the Northern Panhandle through Ohio County and Wheeling.
The stretch of I-70 westbound in Ohio County near the Highlands called "2-Mile Hill" is thought by many drivers and law enforcement to be one of the area's most dangerous stretches of highway. Many area residents will remember an 18-car pile-up on 2-Mile Hill that caused multiple injuries. The crash was ultimately blamed on a semi-truck driver from California whose brakes had failed. It was the third accident in three days on the WV stretch of I-70.
With road and bridge construction, drivers of cars and trucks on I-70 in West Virginia have been required to slow to 45 mph around Wheeling or even 35 mph between the Wheeling Tunnel and the Ohio state line. Recent I-70 accidents in West Virginia have led to a truck fire and toxic spill, as well as injuries.
Dangers of Car and Truck Collisions on I-70
Closing traffic lanes and redirecting traffic to accommodate highway construction creates slow-downs and bottlenecks. This can create highway hazards for drivers, especially truck drivers.
As the weight of loaded tractor-trailers increases, so does the stopping distance required of these massive vehicles. Drivers in large trucks must manage large and numerous blind spots that make it more difficult to merge safely when lanes close. It can be a dangerous situation when a trucker unfamiliar with the area is surprised by a speed limit change, lane merger, or traffic backup and must change lanes quickly and merge with slower traffic.
Truck drivers who come upon a work zone while traveling too fast for traffic conditions or who are distracted or fatigued can easily cause construction zone accidents. Because large trucks weigh much more than passenger vehicles, their force of impact when a tractor-trailer collides with a car or light truck is often devastating to those in the smaller vehicles. The NHTSA says that the occupants of passenger vehicles are more likely to be severely injured or dead in collisions with large trucks than truck drivers.
What To Do After a Construction Zone Accident on I-70
It is quite likely after a construction zone collision with a truck that you will be too badly injured to do anything other than to receive medical care and contact a truck accident attorney as soon as you are able. Seeing a doctor is the most important thing you can do after a motor vehicle accident. In addition to ensuring you get the treatment you need, a doctor's diagnosis of your condition puts your injuries and the care they require on the record in case you have a personal injury claim later.
If you are able to speak to the police after an accident:
Answer questions truthfully
Don't offer opinions or blame anyone
Don't accept blame or downplay your injuries
Ask police how to get a copy of their report and remember to follow up.
Report the accident to your insurance company:
Answer questions succinctly and without discussing fault
If asked about injuries, provide your doctor's diagnosis.
If asked how you are, state that you are still under your doctor's care or that your doctor has discharged you
Decline to give a recorded statement until you have consulted with an attorney
Never sign anything from an insurance company without your lawyer's review or your knowledge that they have paid every dime of your costs and losses.
Contact an Experienced Construction Zone Accident Attorney in West Virginia
If you have been significantly injured in an Interstate 70 construction zone crash, you can let a West Virginia construction zone accident lawyer investigate the liability issues and stand up for your right to full compensation for your injuries and accident-related losses.
Don't waste your time trying to deal with insurance adjusters representing a truck driver, trucking company, or other parties who will try to blame others for your injuries. Let our experienced truck accident lawyers at Jividen Law Offices, PLLC handle your injury claim while you focus on your medical recovery instead.
Learn about what our experienced West Virginia construction zone attorneys are prepared to do to pursue the maximum compensation you deserve for your injuries and damages. Get a free initial consultation with Jividen Law Offices, PLLC. Call or reach out online today.