Work Zone Accident Lawyer in Wheeling, West Virginia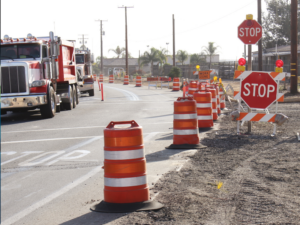 Highway work zones are among the most dangerous stretches of roadway in West Virginia. Highway work zones channel traffic into narrowed lanes and often include detours, lane mergers, and lane closures. Motorists need to be cautious and obey reduced speed limits as they navigate shifting traffic patterns.  Road construction equipment, flaggers, and road workers are often active nearby. Drivers who fail to be cautious in work zones put other motorists, pedestrians, and construction workers at risk of injury. Navigating a busy work zone is no excuse for careless or reckless driving.
If you have been injured in an accident in a West Virginia construction zone, the experienced truck accident lawyers at Jividen Law Offices are ready to help. With more than 50 years of combined legal experience, our attorneys have the knowledge and skill to guide you through the process of pursuing compensation. Our law firm has recovered millions of dollars for accident victims throughout West Virginia and the tri-state area. Let us go to work demanding the full compensation you deserve after a work zone accident caused by someone else's negligence. Contact our construction work zone accident attorneys for a free consultation about your case.
Construction Zone Statistics in West Virginia
In response to the high rate of construction zone accidents in West Virginia, state officials have vowed to step up the enforcement of traffic laws around highway work zones for the upcoming construction season. In one recent year, there were 889 motor vehicle accidents in work zones in West Virginia, resulting in five fatalities and injuring more than 300. More than 60 workers have been killed in West Virginia work zone accidents in recent years.
Drivers and passengers of cars involved in work zone wrecks make up about 85 percent of all work zone accident fatalities. In a recent five-year window, West Virginia had more than 20 fatal work zone accidents. Most construction zone accidents occur during daylight hours, with Tuesdays, Wednesdays, and Thursdays having the highest rates of accidents.
To reduce the incidence of work zone accidents, law enforcement officers will be conducting extra patrols in highway work zones with an emphasis on pulling over drivers who are speeding or driving under the influence of alcohol or drugs. Police will target work zones on West Virginia's interstates, including I-70, I-68, I-64, I-77, I-79, and I-81.
Major Interstate Improvement Project on Interstate 70 in Wheeling, WV
Interstate 70 through Wheeling is undergoing a $214 million bridge rehabilitation project scheduled to last through October 2022. The road improvement project involves work on 26 bridges along I-70, stretching from the Ohio state line to the Middle Creek Road area. The West Virginia Department of Transportation has temporarily reduced speed limits on I-70 during the bridge project and doubled speeding fines in work zones.
What Are the Main Causes of Truck Accidents in Construction Work Zones?
Some of the most frequent causes of truck accidents in highway construction work zones include:
Speeding
Tailgating
Failure to stay in the correct lane, as construction work zones often have narrowed lanes
Failure to follow shifting traffic patterns
Distracted driving
Disregarding traffic signs and instructions from traffic officers or road work flaggers
Waiting too long to merge from a closed lane
Driving under the influence of alcohol and drugs
Reckless driving, including excessive speeding or weaving between lanes
Failure to conduct pre-trip inspections
Inadequate truck maintenance
Unsafe cargo loads, including failing to secure or balance truck cargo
Truck or Car Accidents That Occurred in Work Zones in West Virginia
Several people have been injured in work zone accidents in recent years. The Associated Press reports that, in February 2022, a 32-year-old man from Paw Paw, West Virginia, was fatally struck by a tractor-trailer as he sat in his truck in a work zone on Interstate 81. The truck's amber lights were flashing at the time of the crash.
Who Is Liable in a Work Zone Accident?
Liability in a work zone accident depends on the circumstances of the crash. Some of the parties who might be legally responsible for a work zone accident include:
The construction company or companies performing work at the construction zone– A construction company might be at fault if it fails to design the work zone properly, clearly designate open and closed traffic lanes, and use adequate warning lights on work vehicles and equipment. Many work zone accidents are caused by a lack of adequate lane markings, confusing drivers and causing them to stop or be forced to merge lanes suddenly.
A reckless motorist– Behaviors such as colliding with construction equipment, speeding, tailgating other cars, or disregarding warning signs, flaggers, or police officers.
The state government– The government might be liable for an accident if state transportation officials had responsibility for closing roads or lanes or redirecting traffic patterns and failed to do so.
What To Avoid When Driving in a Construction Zone in West Virginia
If you are driving through a construction zone in West Virginia, you should take certain precautions to decrease your chances of being involved in a highway accident. In general, it is best to:
Avoid speeding, including driving at the highway's regular, posted speed limit. You should drive at the work zone speed limit and be prepared to reduce speed, if necessary, based on traffic or road conditions.
Avoid driving through work zones in hazardous weather, which can impair your visibility and make it more challenging to keep control of your vehicle.
Avoid distractions, particularly talking on your cell phone. Do not read or send texts while driving through a construction zone.
Let Our Experienced Work Zone Accident Lawyers Handle Your Case in West Virginia
If you were injured in a work zone accident in West Virginia, you may be entitled to seek compensation for the losses you have sustained in an accident. Turn to the seasoned truck accident lawyers of Jividen Law Offices for help with your case. Contact our firm for a free, no-obligation consultation to discuss your legal options.