Prescription Drug Lawyer in West Virginia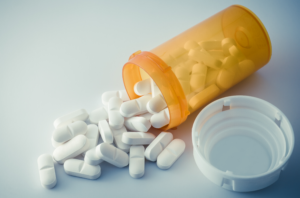 When you take a prescription drug, you do so with the expectation that the medication will improve your health or help you manage a medical condition. Unfortunately, prescription drugs can have harmful side effects as well. According to the Centers for Disease Control and Prevention, adverse effects from prescription drugs result in approximately 1.3 million emergency room visits and 350,000 hospitalizations each year.
Drugs can injure patients due to undiscovered side effects or when patients and physicians are not warned about their risks. Drugs also can be harmful if they become contaminated during the manufacturing process or due to mistakes made in prescription or administration.
If you have suffered serious adverse effects from taking a prescription drug, let the prescription drug attorneys of Jividen Law Offices, PLLC, help you pursue compensation for your injuries and losses. With more than 50 years of combined legal experience, our legal team has the knowledge and skill to take on the big pharmaceutical companies and demand justice on your behalf. Contact Jividen Law Offices, PLLC for a free case evaluation with a West Virginia prescription drug lawyer.
When Is a Drug Considered Dangerous?
Prescription drugs may be dangerous under a wide range of circumstances.
A drug may be considered dangerous when:
A prescription medication contains manufacturing defects, contaminants, or harmful substances that were inadvertently incorporated into the drug mixture.
A drug causes severe side effects that the drug company failed to identify during clinical trials or failed to list on the drug's warning label.
Doctors make preventable prescription errors, including miscalculating the necessary dosage or prescribing a drug that is contraindicated by a patient's list of medications.
Pharmacies make dispensing errors, such as putting the wrong drug or the wrong dosage in a patient's prescription.
While healthcare providers such as pharmacists may be held responsible when a patient is injured by a dispensing error, dangerous drug cases are usually filed against the pharmaceutical companies that manufacture and market the drugs.
Prescription Drugs Linked to Serious and Fatal Conditions
Some of the most high-profile recent cases involving dangerous drugs include:
Invokana, a Type 2 diabetes treatment that is alleged to cause side effects such as Fournier's gangrene, a bacterial infection that leads to tissue death
Belviq, a diet pill that has been linked to cancers of the pancreas, lungs, and colon
Elmiron, a drug used to treat interstitial cystitis that is believed to cause vision loss with long-term use
Prevacid/Prilosec/Nexium, proton-pump inhibitors that are suspected of causing conditions such as dementia, kidney disease, and intestinal infection
Valsartan, a hypertension treatment that was later recalled for increasing the risk of certain kinds of cancer
Zantac, a heartburn medication that may contain a carcinogenic substance
Negative Side Effects of Prescription Drugs
Dangerous prescription drugs can cause all kinds of negative side effects.
Some of the most serious medical complications that may result from taking dangerous prescription drugs include:
Blood clots
Heart attack and stroke
Pulmonary embolism
Kidney damage
High blood pressure
Gastrointestinal issues
Increased risk of infection
Depression and suicidal ideation
Birth defects
Cancer
The risk of suffering negative side effects from prescription drugs and the severity of complications that a patient may experience depend on factors including the dosage of the drug, how long the drug is taken, and the patient's medical history.
Legal Options in a Dangerous Drug Lawsuit
You may be entitled to pursue a dangerous drug lawsuit under one or several relevant legal theories, including:
Failure to warn —A failure to warn claim alleges that the pharmaceutical company failed to include potential side effects on the prescription drug's label or provide adequate warning to healthcare providers about the risks of the drug. The claim may allege that the pharmaceutical company failed to conduct sufficient clinical testing to identify risks and side effects or that the company knew about the risks and withheld the information.
Defective design or manufacturing —A dangerous drug lawsuit may be based on a claim that the formulation of a drug was inherently dangerous or that mistakes were made during the manufacturing of the drugs, such as contamination of the formulation.
Medical malpractice — A malpractice lawsuit alleges that negligence by your healthcare providers – such as a physician, pharmacist, or administering nurse – resulted in you taking prescription drugs that were harmful to your health.
Who Is Liable for Prescription Drug Damages?
In most defective prescription drug cases, the intention is to hold the drug maker liable for the harm and losses suffered by a patient. Pharmaceutical companies are required to make prescription drugs that are safe and effective when used as directed. They must exercise reasonable care in the design and manufacture of their products and conduct appropriate clinical trials to identify potential side effects and risks of complications.
In addition to the pharmaceutical company that developed the prescription drug, other parties who may be liable in a dangerous prescription drug case include:
Pharmaceutical manufacturers —The company that developed the drug may contract another company to handle production. Manufacturers may be liable for drugs that are unsafe due to contamination or other errors in production.
Prescribing physicians — A doctor may be liable if the physician failed to follow the recognized standard of care in prescribing a drug.
Pharmacy —A pharmacist may be liable for errors in dispensing drugs.
Nurses —A nurse may be liable for negligent actions in administering drugs, causing harm to a patient.
Contact Our West Virginia Prescription Drugs Lawyer
If you reside in West Virginia and have been injured by a dangerous drug, then you deserve accountability. Our firm wants to help you seek justice. Contact Jividen Law Offices, PLLC today for a free, no-obligation consultation with a Wheeling WV, prescription drugs lawyer. We look forward to explaining how our personal injury law firm can guide you through the process of seeking compensation for harm caused by a dangerous drug.