Lawyer For Rear-End Car Accidents in Wheeling, WV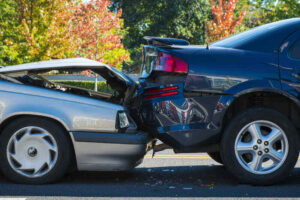 Have you been injured in a rear-end car accident in Wheeling, WV? If so, you should know you're not alone. Rear-end crashes are the most common type of car accident, representing almost one out of every three wrecks that occur on West Virginia roads.
Many rear-end crash victims sustain serious injuries that can have life-changing effects. Fortunately, if you were involved in a rear-end crash caused by another driver, you may be entitled to seek significant compensation.
At Jividen Law Offices, PLLC, our Wheeling read-end accident lawyers can help you file a car accident injury claim and demand the money you need to get back on your feet. Contact us today to learn more about your legal options in a free initial consultation.
What Is a Rear-End Collision?
Rear-end collisions typically occur when one vehicle crashes into the rear end of the vehicle in front. Rear-end collisions are by far the most common type of accident in collisions involving two or more vehicles.
Many rear-end collisions happen when the lead vehicle is slowing down to turn or stopped at an intersection. In some cases, rear-end crashes result from a chain reaction of collisions that occur in dense traffic, resulting in a multi-vehicle accident.
Some of the most common causes of rear-end accidents in West Virginia include:
Distracted driving – When drivers are focused on text messages, phone conversations, or other distractions and do not have their eyes on the road, they may fail to recognize that the vehicle in front has come to a stop or recognize it is too late to avoid an accident. 

Impaired driving – Drivers who are drunk or high tend to have trouble with spatial awareness, depth perception, recognition of hazards, and reaction time. These impairments can easily contribute to rear-end accidents.

Drowsy driving – According to the

Centers for Disease Control and Prevention

(CDC), driving after 24 hours of sleep deprivation has similar impairing effects as driving with a blood-alcohol level that is over the legal limit. Drowsy drivers can cause rear-end accidents when they nod off behind the wheel or drift into neighboring lanes of traffic.

Reckless driving – Reckless driving behaviors such as speeding, tailgating, and lane weaving leave drivers with less time to react, which can increase the risk of rear-end collisions.

Vehicle defects – When critical vehicle components such as tires, brakes, or airbags are defective, they can fail in transit and contribute to rear-end crashes caused by loss of driver control.

Work zones—Road construction zones often have lane mergers, reduced speed limits, and traffic slowdowns. Rear-end collisions often occur when traffic stops suddenly in a work zone.

Poor road conditions – Unsafe road conditions such as large potholes, poor drainage, or missing road signs can contribute to driver confusion or loss of control and result in rear-end wrecks.

Rear-End Accident Statistics
The following statistics compiled by the National Highway Traffic Safety Administration (NHTSA) show the frequency and severity of rear-end accidents in the U.S.:
Rear-end crashes are the most common type of vehicle collision, accounting for nearly one-third of all crashes involving vehicles in transport.
Of the 2,194,000 rear-end accidents that occurred across the U.S. in a recent year, 595,000 resulted in reported injuries.
There were 2,346 rear-end crashes that resulted in fatalities that year, which represented 7.1 percent of all fatal crashes.
Common Injuries from Rear-End Car Accidents
The common types of injuries that can occur in rear-end accidents in Wheeling include:
Head and neck injuries
Traumatic brain injuries
Facial injuries and dental trauma
Back and shoulder injuries
Arm, elbow, wrist, and hand injuries
Dislocated or fractured bones
Abdominal injuries and internal bleeding
Bruises, lacerations, and puncture wounds
Leg, knee, ankle, and foot injuries
Paralysis
Post-traumatic stress disorder (PTSD)
Other emotional and psychological injuries
Permanent scarring and disfigurement
Who Is at Fault for Rear-End Collisions?
It's common to assume that the driver of the trailing vehicle is automatically at fault for a rear-end collision. Drivers should assume the vehicle in front may stop unexpectedly and maintain enough distance behind the vehicle to allow time to stop safely.  Allowing three to four seconds of following distance between your car and the vehicle in front should allow enough time and distance to avoid crashing into the rear end of the vehicle in front.
The responsibility for a rear-end accident depends on the specific facts of the accident. Any of the following parties could be partially or entirely at fault for a rear-end crash:
The following driver – The driver of the following vehicle may be at fault if they collided with the vehicle ahead of them because they were distracted, impaired, or tailgating. 

The leading driver – The leading driver may be at fault if the driver stopped unexpectedly in an active lane of traffic, cut off a vehicle when passing or changing lanes, or backed into a vehicle. The lead driver also may be at fault if the driver was driving with now-working brake lights.

Other road users – Other road users such as a motorist, cyclist, or pedestrian may be at fault if they engage in negligent maneuvers that prompt the leading driver to slam on the brakes.

Vehicle manufacturers – The manufacturer of a defective vehicle component such as a defective brake may be at fault if a defective car part contributes to a rear-end collision.

Government agencies – A government agency may be at fault if poor road conditions contribute to a rear-end accident.

What Compensation Can You Get for Being Rear-Ended?
Depending on the circumstances surrounding the rear-end accident, you may be entitled to seek compensation for the following types of crash-related losses:
Medical expenses – The costs of any medical care you receive for the treatment of read-end accident-related injuries

Incidental costs – Out-of-pocket costs you incur for incidental expenses, such as the costs of commuting to medical appointments

Lost wages – The value of any wage reductions you have as the result of any time you miss at work while recovering from your injuries

Future losses – The projected value of future expenses and losses you will likely incur as a result of the accident, such as the costs of medical care your doctor believes you will need in the future and the value of losses in your lifetime earning potential

Pain and suffering – The intangible cost of the physical pain, emotional anguish, and psychological suffering you endure as a result of your subsequent injuries

Property damage – The costs associated with repairing vehicle damage caused by the accident or replacing a vehicle that was declared a total loss

What to Do After a Rear-End Car Accident
Here are some steps you can take to protect your health and your legal rights after a Wheeling rear-end car accident:
Report the accident to the police. West Virginia law requires that accidents involving an injury or death of a person or property damages in excess of $1,000 be reported to the local police, sheriff's department, or WV State Police. A police report documents the details of the accident and will be necessary to have if you pursue an injury claim. You may want to file it within 24 hours.
Seek medical attention as soon as possible to make sure your injuries are properly diagnosed, treated, and included in your medical records.
Follow your doctor's care plan and attend all follow-up appointments to maximize the effectiveness of your care and demonstrate that you are taking your recovery seriously.
Gather evidence such as photos of the crash scene, the clothing you were wearing when the crash occurred, the other driver's contact and insurance information, and statements from eyewitnesses.
Keep track of crash-related documentation such as bills, medical records, financial statements, vehicle repair estimates, and pay stubs.
Avoid sharing information on social media or discussing the details of the accident with anyone but your lawyer while your case is pending.
Contact a knowledgeable rear-end accident lawyer for dependable legal assistance as soon as you can.
How Our Experienced Car Accident Lawyers Can Help
At Jividen Law Offices, PLLC, our Wheeling car accident attorneys have more than 50 years of combined experience fighting on behalf of local crash victims. A Wheeling rear-end accident attorney can help you with every aspect of a claim by:
Addressing your questions and helping you understand your legal options during a free initial case review
Conducting an investigation of the rear-end accident to gather evidence and determine who was at fault
Filing legal documents and managing deadlines on your behalf
Communicating with third parties, insurance companies, and other attorneys on your behalf
Working with witnesses such as accident reconstruction specialists who can support your case
Negotiating aggressively during settlement talks to maximize the amount of compensation you take home
Helping you evaluate whether an insurance settlement offer is fair and reasonable in light of your injuries or whether you should go to court to fight for maximum compensation
Representing you in court and arguing for a favorable verdict on your behalf
Contact a Wheeling Rear-End Car Accident Attorney Today
The Wheeling car accident lawyers of Jividen Law Offices, PLLC are prepared to use our considerable resources and legal skills to help you seek full and fair compensation after a rear-end collision caused by another motorist. Contact our firm today to discuss the details of your rear-end accident case with us in a free initial case review.