Pedestrian Accident Lawyer in Wheeling, WV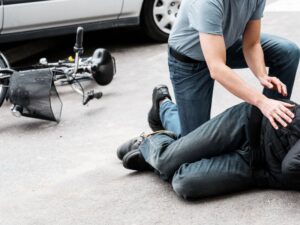 Pedestrian accidents can be life-changing events for both the victim and their family. At Jividen Law Offices, PLLC, our West Virginia personal injury attorneys understand that being injured in an accident can be one of the most stressful and overwhelming experiences of your life.
Our trusted pedestrian accident attorneys and staff can guide you through the injury claims process and work to ease your stress. We're a small law firm with a reputation for delivering justice. Our track record of securing substantial results for our clients speaks for itself. We have helped many accident victims in West Virginia, including people injured in pedestrian accidents, recover the compensation they need to move forward with their lives.
What To Do Right After a Pedestrian Accident In West Virginia?
Pedestrian accidents often result in devastating injuries that require immediate medical attention. If you are able to collect evidence at the scene of the accident, you should take the following steps:
Gather information from the other driver, like their license plate number and vehicle information.
Contact the police or ask someone to call the police for you.
Remain calm and refrain from becoming aggressive with the at-fault driver.
Take videos or photos of the street, the car involved, and any injuries you've sustained.
Write down the time and location of the accident as well as the weather conditions.
Accept a ride in an
If you don't believe your injury is severe, you should seek medical attention and adhere to your doctor's orders.
Keep all receipts for your treatments and other important documents that show expenses related to the accident.
Get in touch with a pedestrian accident attorney.
Stay off social media until you've discussed your case with a personal injury lawyer.
Why Choose Jividen Law Offices, PLLC, For Your Pedestrian Accident?
At Jividen Law Offices, PLLC, we are committed to helping those injured in pedestrian accidents. Founding attorney David A. Jividen is a highly respected trial lawyer with more than 35 years of legal experience. He is well-known and respected in the legal field and has received numerous awards for his outstanding legal work, including inclusion on the Super Lawyers List. David is also a member of the Million Dollar Advocates Forum, signifying that he has obtained a verdict or settlement of $1 million or more.
Additionally, Jividen Law Offices, PLLC, has memberships in the American Board of Criminal Lawyers, the American Institute of Personal Injury Attorneys, the Fourth Circuit Judicial Conference, and the West Virginia Association of Justice.They reflect the quality of service we provide and our dedication to our clients.
What Are Recoverable Damages for A Pedestrian Accident In Wheeling?
Because pedestrians lack the protection that vehicular occupants have, they often suffer severe injuries that require extensive medical treatment and rehabilitation. In some cases, the injured pedestrian may need to take a significant amount of time off work or be unable to work again due to a disability. If you were injured in a pedestrian accident in Wheeling, you might be entitled to claim compensation for the following losses:
Emergency medical expenses
Past, present, and future medical expenses
Loss of enjoyment of life
Lost wages, both past and future
Loss of consortium
Emotional pain and mental suffering or anguish
Loss of earning capacity
Damage to personal property
When a pedestrian accident results in a permanent disability, you may seek compensation for future medical care.
What Is The Time Limit You Have For Pedestrian Accident Lawsuits In West Virginia?
In West Virginia, the statute of limitations allows two years from the date of the accident for filing a lawsuit against the at-fault party who caused your injuries and losses. This two-year time limit applies to personal injury lawsuits that may arise from a pedestrian accident.
It is crucial to file a lawsuit within the time allowed. If you file your case after the deadline has passed, the court may dismiss your case. You will lose your right to pursue compensation through the court system. An experienced Wheeling pedestrian injury attorney can ensure you meet all the necessary deadlines for filing a lawsuit.
How To Prove Negligence in A Local Pedestrian Accident
In the aftermath of a pedestrian accident, the most important question to be answered when proving negligence is whether the pedestrian's injuries and losses were a foreseeable consequence of the driver's careless behavior.
If it is determined that a reasonable driver would not have behaved similarly, the pedestrian may be eligible to recover compensation for his or her accident-related injuries and losses.
Your pedestrian accident lawyer must be able to show that the driver failed to fulfill their obligation to take reasonable precautions when driving to avoid endangering others on the road. The attorney will need to show that the driver's actions caused your injuries and losses.
Several parties may share liability in a pedestrian accident case in West Virginia. In some cases, those responsible for maintaining the road may be held liable if the accident occurred due to improper road maintenance. The pedestrian may share partial blame for the crash and be assigned a percentage of the fault. When a pedestrian is found to be partly to blame for the accident that injured them, any compensation the court awards the injured person will be reduced in proportion to their percentage of fault.
Determining who was negligent in a pedestrian accident case can become complicated. Our pedestrian accident injury lawyers at Jividen Law Offices, PLLC, will start the process by conducting a thorough investigation of the pedestrian accident, collecting the available evidence, and identifying those who are financially liable. In some cases, we may need to work with accident reconstruction specialists to prepare a case.
Most Common Causes of Pedestrian Accidents
It is crucial for drivers to be vigilant and cautious when driving in areas with pedestrians. Pedestrians must be aware of their surroundings and follow traffic rules to reduce the risk of accidents. According to the National Highway Traffic Safety Administration (NHTSA), in a recent year, pedestrians accounted for almost 7,000 traffic fatalities nationwide.
In many of these accidents, alcohol was a factor. The most dangerous time for pedestrian accidents is at night in large urban areas. Here are some of the most common causes of pedestrian accidents:
Speeding
Failure to Yield
Poor Road Conditions
Adverse Weather Conditions
Most Common Injuries of Pedestrian Accidents
One of the most common injuries in pedestrian accidents is head trauma. The impact of a vehicle hitting a pedestrian can cause severe head injuries, including traumatic brain injuries and skull fractures. Another common injury is spinal cord injury. These injuries could lead to permanent disability and paralysis and require extensive medical care and rehabilitation.
The force of a vehicle hitting a pedestrian can cause fractures in various parts of the body, including the arms, legs, and hips. These injuries can require surgery and a lengthy recovery period. Soft tissue injuries such as bruises, lacerations, and sprains are common, but they are usually less severe and heal on their own over time.
Facial and dental fractures are also common results of pedestrian accidents. If you have sustained injuries in an accident as a pedestrian, seek medical attention as soon as possible. Once you've begun treatment, contact a pedestrian lawyer who can help you understand your legal rights to seek compensation for your medical bills and related losses.
How Our Attorneys Can Help with Your Wheeling Pedestrian Accidents
Our attorneys at Jividen Law Offices, PLLC, offer aggressive advocacy from the start of your case. After you've been injured in a pedestrian accident, our lawyers will develop a legal strategy to pursue the maximum compensation available for your injuries. We will work to protect your rights, establish liability in your case, and pursue just compensation for you.
We understand the physical, emotional, and financial toll that pedestrian accidents can take. We offer a free consultation to review the specifics of your case and determine the best course of action. We accept pedestrian accident cases on a contingency fee basis. That means you won't have to worry about paying our legal fees unless we recover compensation on your behalf. If we are successful in securing compensation for you, then we will receive a portion of the compensation awarded to cover our legal fees and expenses.
Our attorneys believe in building lasting relationships and providing our clients with compassionate, knowledgeable legal representation.
Schedule a Free Case Review with Our Experienced Pedestrian Accident Attorneys
With years of experience and a track record of success, you can rest assured that when you choose our pedestrian accident lawyers at Jividen Law Offices, we know how to fight for your rights. Read what our clients have to say about us. Then get in touch with a member of our team for a free, initial case review. Let our West Virginia personal injury attorneys handle your case while you focus on healing.