Head-On Car Accident Lawyer in Wheeling, WV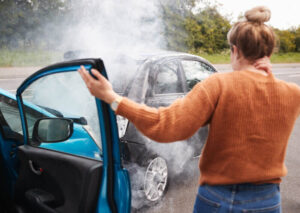 A head-on collision is one of the most frightening and potentially catastrophic types of car accidents. When vehicles traveling in opposite directions collide head-first, those who survive may sustain life-changing injuries and have astronomical medical costs.
If you or a loved one has been injured in a Wheeling head-on collision caused by another motorist, you may be entitled to seek significant compensation. At Jividen Law Offices, our experienced West Virginia attorneys understand how difficult it can be to recover physically and financially after a severe injury accident.
Our compassionate and knowledgeable attorneys are here to guide you through the insurance claims process and help you demand justice from the at-fault driver. Contact us for a free consultation to discuss your legal options.
What Is a Head-On Collision?
A head-on collision, also known as a frontal impact collision, is a particularly devastating type of wreck. The collision impact is magnified by the speed of the two vehicles approaching from opposite directions. Some head-on collisions involve a single vehicle crashing front-first into a fixed object, such as a bridge abutment, telephone pole, fence, or tree.
Head-on accidents represent a small portion of overall car crashes. But they are much more likely to result in catastrophic injuries and fatal injuries. Statistics from the National Safety Council show that in one recent year, head-on collisions accounted for less than three percent of all motor vehicle accidents but nearly 13 percent of all crash-related fatalities.
Recent Head-On Collisions in West Virginia
Unfortunately, the state of West Virginia is no stranger to deadly head-on collisions. The following are two recent head-on crashes that occurred within 100 miles of Wheeling.
On January 4, 2022, two vehicles were involved in a head-on collision on Georgetown Road just outside Weston, WV. According to local police, 65-year-old Charles Junior Wolfe crashed head-first into another car occupied by a mother and her four young children, all of whom were under the age of 11.
When the crash occurred, Mr. Wolfe was reportedly ejected from his vehicle and subsequently pronounced dead at the accident scene. The second vehicle also caught fire due to the collision, and local troopers used fire extinguishers to control the blaze. The mother in the second vehicle and each of her four children sustained severe but non-life-threatening injuries and required emergency treatment from area hospitals.
On January 10, 2022, another fatal head-on collision occurred near Bridgeport, WV. According to the Clay County Police Department, 75-year-old Elva G. Hudson of Wallback entered southbound I-79 traveling in the wrong direction early in the morning.
Shortly afterward, Ms. Hudson collided head-first with another vehicle traveling along the highway. Police officers who responded to the scene reported that Ms. Hudson had sustained severe injuries and was pronounced dead at the scene. The driver of the other vehicle involved in the crash was fortunately uninjured.
Why You Should Seek Legal Help After a Head-On Collision
If you're struggling to pay your bills in the aftermath of an accident, you may wonder whether you can justify the expense of hiring an attorney.
The experienced injury attorneys at Jividen Law Offices will handle your head-on accident injury case on a contingency fee basis. You won't have any upfront costs or owe any legal fees unless our attorney obtains money for you through a negotiated settlement or court award.
A knowledgeable personal injury lawyer generally can help you recover more money for your accident-related losses than you could obtain on your own.
Our experienced car accident attorneys at Jividen Law Offices will:
Explain your legal rights and answer your questions during an initial consultation
Conduct an independent investigation into the accident once we're working on the case to uncover evidence and determine who was at fault
Manage all of the complicated and time-consuming aspects of your case
Communicate with third parties, insurance companies, and other attorneys on your behalf
Hire expert witnesses such as accident reconstruction specialists
Negotiate aggressively for full compensation for you
Represent you in court, if necessary
Common Places Where Head-On Collisions Occur
A head-on collision can happen anywhere, but some of the most common places where these accidents occur include:
Intersections – Many head-on collisions occur at intersections with stop signs or traffic lights. When negligent drivers intentionally or unintentionally run red lights or ignore other drivers' right of way at an intersection, they can end up crashing head-first into other vehicles passing through the intersection.
Undivided highways – Head-on collisions frequently occur on undivided highways lacking medians or barriers to separate opposing traffic. An inattentive or sleepy driver may drift across the centerline into an oncoming lane of traffic and cause a head-on collision. A driver who moves into an oncoming lane to pass may misjudge the speed of approaching vehicles and cause a head-on collision.
Bidirectional lanes – Many head-on accidents happen in bidirectional lanes, known as reversible lanes. These center lanes allow drivers to enter from either direction and turn left and right. Drivers moving into the bidirectional lane at the same time from opposite directions are at risk for head-on crashes.
One-way streets – If a negligent or confused driver enters a one-way street the wrong way, they can become involved in devastating head-on accidents with other vehicles driving in the proper direction.
Causes of Head-On Collisions
Some of the most common causes of head-on collisions in Wheeling, WV include:
Distracted driving – Drivers focused on text messages or other distractions are more likely to cause head-on crashes when they miss traffic signs or fail to see other drivers who have the right of way.
Driving under the influence – When drivers consume alcohol or certain drugs, they may be more likely to cause head-on collisions because they are too impaired to drive in a straight line, judge depth perception, or react swiftly. An intoxicated driver may get on an interstate driving against traffic and cause a head-on collision.
Drowsy driving – If a driver is dangerously fatigued, the driver may cause a head-on collision by drifting out of their designated lane or even nodding off behind the wheel.
Reckless driving – Reckless driving behaviors such as speeding, tailgating, and lane weaving frequently contribute to head-on accidents. Reckless drivers often fail to leave themselves enough time or distance to avoid collisions.
Driver error – Drivers who are young, inexperienced, or elderly are more at-risk for head-on collisions due to simple mistakes, such as failure to yield the right of way or heading in the wrong direction on a one-way street.
Head-On Car Accident Injuries
Head-on car accidents frequently result in the following types of serious injuries: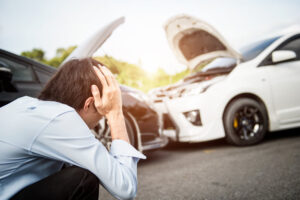 Facial injuries
Dental trauma
Back and neck injuries
Partial or total paralysis
Dislocated or fractured bones
Knee and other joint injuries
Lacerations and puncture wounds
Thermal or friction burns
Abdominal injuries and internal bleeding
Loss of limbs
Post-traumatic stress disorder
Who Is at Fault in a Head-On Car Crash in West Virginia?
In most head-on accidents, the driver who was at fault failed to yield the right of way or drove in the wrong direction on a one-way street.
Depending on the circumstances, any of the following parties may bear responsibility in a head-on collision:
Another road user, such as a negligent pedestrian, cyclist, or another driver
The other driver's employer, if the at-fault driver was traveling for work-related reasons at the time of the crash
A car parts manufacturer, if a defective car part contributed to the wreck
A local government agency, if poor road conditions or lack of adequate directional signs contributed to the head-on crash.
What to Do After a Head-On Accident
You can take the following steps to protect yourself and get a head start on your injury claim after a head-on accident:
Seek medical attention as soon as possible to ensure your injuries are diagnosed, treated, and added to your medical records
Follow your doctor's care plan and attend all follow-up appointments
Gather as much evidence as possible from the accident, including the other driver's information, photos of the scene, and statements from witnesses
Keep track of all accident-related paperwork, including medical bills, vehicle repair estimates, and pay stubs showing missed time at work
Watch what you say when you communicate to others about the accident
Avoid posting any comments or phones on social media about your injuries or the accident while your case is pending
Contact a knowledgeable head-on car accident lawyer as soon as possible
Hospitals in Wheeling, WV
If you have been injured in a head-on car accident near Wheeling, WV, you may have been transported to one of the following local hospitals:
Wheeling Hospital
1 Medical Park Rd
Wheeling, WV 26003
(304) 243-3000
Peterson Healthcare and Rehabilitation Hospital
20 Homestead Ave
Wheeling, WV 26003
(304) 234-0500
Reynolds Memorial Hospital
800 Wheeling Ave
Glen Dale, WV 26038
(304) 845-3211
Acuity Specialty Hospital of Ohio Valley at Wheeling
500 Medical Park Rd
Wheeling, WV 26003
(304) 238-5750
How Our Trusted Head-On Car Accident Attorneys in Wheeling, WV Can Help
The Wheeling head-on crash attorneys at Jividen Law Offices have more than 50 years of combined legal experience helping people who have been injured seek justice and just compensation. Contact us by phone or online for a case review. We'll be ready to sit down and discuss your rights for free.