Distracted Driving Accident Attorney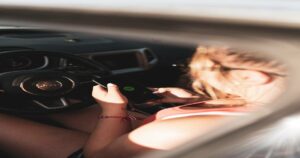 Distracted drivers pose a danger to everyone on the road. Any activity that takes a driver's eyes off the highway or diverts a driver's attention from the task of driving increases the risk of an accident. Drivers who are eating or drinking, engaging in personal grooming, talking to passengers or fiddling with the radio do not have their full attention on the road. The popularity of cell phones has created more dangerously distracted drivers and more distracted driving accidents.
If you have been injured in a motor vehicle accident and you believe another driver was talking on the phone or driving distracted, you should have a personal injury lawyer review the details of the accident. You may be entitled to seek compensation for your accident-related losses. The attorneys at Jividen Law Offices, PLLC, have more than 50 years of combined experience serving accident victims in West Virginia and the Tri-State Area.
Contact us today for a free consultation to learn more about how we can help you seek the money you need to recover from a distracted driving accident.
What Is Distracted Driving?
According to the Centers for Disease Control and Prevention (CDC), distracted driving is driving while engaged in any activity that prevents you from maintaining complete focus on the task of safe driving. Any activity that diverts a driver's attention from driving puts drivers, passengers, other motorists and pedestrians at risk.
There are three primary types of distractions. They are:
Visual distractions – Visual distractions are distractions that take your eyes away from the road. Drivers must constantly scan the road, the information on their vehicles' control panels, and the images in their mirrors. Anything that draws a driver's eyes away from the road can be a dangerous visual distraction that may lead to a serious accident.
Manual distractions – Manual distractions are distractions that take a driver's hands off the steering wheel. Even if a driver is keeping his or her eyes on the road, taking one or both hands away from the steering wheel can leave them without enough time to react and avoid potential collisions. Many drivers think nothing of reaching for a cup of coffee or adjusting a mirror while they're behind the wheel. But keeping both hands on the steering wheel is important for safe driving.
Cognitive distractions – Cognitive distractions are distractions that take your mind away from the road. A phone conversation, a daydream or conversation with a passenger can slow a driver's reaction time or cause a driver to lose awareness of traffic conditions. Cognitive distractions are significantly more likely to cause serious motor vehicle crashes.
It's important to recognize that texting while driving is especially hazardous because reading or sending a text message can distract a driver in all three ways. Reading or composing a text message requires visual focus. Typing or scrolling through a message requires manual input. Considering the contents of a text message requires cognitive attention.
The National Highway Traffic Safety Administration (NHTSA) estimates that it takes the average person approximately five seconds to read or send a text message. While this may not sound like much time, a driver can cover approximately 100 yards in five seconds while traveling at just 55 miles per hour. The CDC notes that this is essentially like someone driving the length of a football field with their eyes closed.
Distracted Driving Accidents in West Virginia
Many drivers assume that they are careful enough to send a quick text or take their hands off the wheel with no serious risk of an accident. Unfortunately, traffic statistics tell a different story.
Recent data published by the CDC and the NHTSA reveal:
Approximately eight people are killed every day as a result of distracted driving in the United States.
In 2018 alone, more than 2,800 people were killed and an estimated 400,000 people were injured in distracted driving accidents in the U.S.
An estimated 20 percent of the people who were killed in distracted driving crashes in 2018 were non-vehicle occupants, such as pedestrians or bicyclists.
In 2019, more than 3,100 people were killed as a result of distracted driving accidents in the U.S., a year-over-year increase of more than ten percent.
There were 294 traffic fatalities in the state in 2019. While precise data on the number of distracted driving accidents that led to fatalities is not available, the GHSP says distracted driving is a significant problem in West Virginia.
The GHSP funded public safety campaigns that led to 4,075 cell phone citations and 436 texting citations being issued in 2019.
Is Texting and Driving Illegal in West Virginia?
West Virginia has laws that prohibit texting and most other electronic communications device usage while driving on public roads. In 2012, the West Virginia legislature passed Senate Bill No. 211, which states:
People are not allowed to drive or operate motor vehicles on public streets or highways while texting.
People are not allowed to drive or operate motor vehicles on public streets or highways while using cell phones or other electronic communications devices unless they are used in a hands-free manner.
Using a cell phone or other device is defined as holding the device in your hand while viewing or sending images or information, playing games, composing or viewing messages, or making phone calls.
Anyone who violates the texting or cell phone use while driving ban can be held guilty of a traffic offense.
If you are convicted of texting while driving offense, you may be fined up to $100 for a first-time offense, $200 for a second offense, and $300 for a third or subsequent offense.
If you are convicted of a third or subsequent texting-while-driving offense, the West Virginia Department of Motor Vehicles will add three points to your license.
Using a handheld device while driving has been a primary offense in the state of West Virginia since 2013. That means law enforcement officers can pull you over. They can issue you a ticket if they observe you texting while driving. Prior to the rule, handheld device usage was a secondary offense. The police could only issue tickets after pulling drivers over for other offenses like speeding or running red lights.
How to Prove Distracted Driving in West Virginia
As cellphones and handheld electronic devices have become more prevalent, distracted driving car accidents have occurred more frequently. Even if it seems obvious to you that another driver was distracted when the accident occurred, it can be challenging to prove distracted driving in a West Virginia car accident claim.
Proving that the other driver was responsible for the accident is essential if you wish to pursue compensation for your accident-related losses.
An experienced personal injury lawyer at Jividen Law Offices can help you build a persuasive case for compensation by collecting the following types of evidence:
A police accident report, which contains basic details about damage, injuries, and law enforcement's officers' official opinions regarding the cause of the crash
Statements from eyewitnesses who saw the crash
Photos of the aftermath of the accident, such as vehicle damage or skid marks
Video footage of the accident from traffic, security, or in-car dashboard cameras
Cell phone records from the other driver, which may show calls or texts that occurred at the time of or just before the accident
Testimony from accident reconstruction specialists
Some types of evidence, such as cell phone records and security camera footage may be difficult to obtain on your own. When you work with an experienced West Virginia attorney, you have access to resources such as private investigators and other professionals who can help you identify and gather the evidence to support your claim.
Contact Our West Virginia Distracted Driving Accident Attorneys
At Jividen Law Offices, PLLC, you can count on our attorneys to provide compassionate advocacy and top-quality representation. For more than 35 years, our record of favorable outcomes in both settlement negotiations and trial verdicts has earned us a reputation for success.
We handle cases on a contingency basis, which means that we collect no legal fees unless we recover compensation for you through a settlement or court verdict. We will never ask you to pay out-of-pocket or up-front costs to start work on your case. Our team can help you regardless of your current ability to pay. We also offer initial consultations at no charge or obligation to you, so you have nothing to lose when you reach out to us for a free case review.
You can trust our West Virginia personal injury lawyers to work relentlessly toward the financial recovery you deserve. Contact us today to get an advocate on your side.
Testimonials
"I employed David A. Jividen to handle several claims of both me and my husband. He was very attentive to our needs, answered all of our questions and we were very pleased with the result. I would highly recommend Jividen Law Offices, PLLC."
Review by: V.B.
Rating: ★★★★★ 5 / 5 stars