Industrial Accident Attorney in Wheeling, WV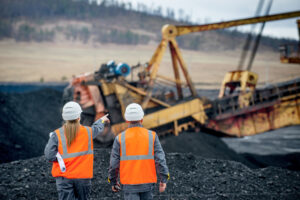 Were you injured in an industrial accident in Wheeling, West Virginia? An experienced work injury lawyer can help you pursue compensation for your medical expenses, lost wages, and more.
The industrial accident attorneys at Jividen Law Offices, PLLC, have advocated for injured workers for more than 35 years. Our legal team has more than a half-century of legal experience and a track record of strong advocacy on behalf of our clients. We pride ourselves on our unwavering dedication to our clients, who consistently praise us for our service and results.
Contact Jividen Law Offices, PLLC, today to speak with a Wheeling industrial accident attorney about your injury during a free consultation.
What Is an Industrial Accident?
Industrial accidents occur in factories, manufacturing plants, warehouses, and other industrial settings.
According to the National Association of Manufacturers, manufacturing is one of West Virginia's largest sectors, accounting for 10 percent of the state's total output and employing seven percent (47,000) of the state's workforce. The top ten largest manufacturing sectors are as follows:
Chemicals
Petroleum and coal products
Motor vehicles and parts
Primary metals
Aerospace and other transportation equipment
Fabricated metal products
Nonmetallic mineral products
Wood product manufacturing
Plastics and rubber products
Food, beverage, and tobacco products
Common Types of Industrial Accidents
According to the Bureau of Labor Statistics (BLS), 47 West Virginia workers died on the job in a recent year. According to the West Virginia Department of Commerce, approximately 12,800 workers were injured or became ill at work, and 6,700 injuries caused workers to miss days at work or need job transfers or restrictions. The most common types of industrial accidents in West Virginia include the following:
Slips, trips, and falls– Over 2,000 workers fell or tripped on the job in one recent year, the most frequent cause of injuries in reported industrial accidents, according to the West Virginia Department of Commerce. Industrial falls occur for various reasons, including slippery surfaces, uneven surfaces, unsecured surfaces, trip hazards, or inadequate safety protocols. Employers should create and maintain safe working environments with training, signage, and safety equipment for their workers.
Heavy machinery accidents– Many industrial jobs require workers to use heavy machineries, such as grinders, cranes, conveyor belts, drills, mixers, generators, compressors, and more. Accidents can occur due to operator errors, inadequate maintenance, and machinery malfunctions.
Electrical accidents– Industrial workers often work with electrical equipment, exposing them to the risk of severe shock and electrocution. Most electrical injuries are caused by direct exposure to electricity, such as contact with a live electrical wire or electrical discharge.
Fires and explosions– Many fire hazards exist in industrial workplaces from the equipment and materials workers use. For example, flammable materials are frequently used in manufacturing, increasing the risk of a fire or explosion.
Toxic substance exposure– According to the West Virginia Department of Commerce, 150 workers were injured by exposure to harmful substances or environments in a recent year. Chemicals and other potentially harmful substances must be stored, transported, handled, and disposed of correctly to avoid harmful exposure to workers.
Transportation accidents– Industrial workers often use motor vehicles, such as trucks and forklifts. Accidents can occur due to driver error, vehicle malfunction, miscommunication, or slick surfaces. According to the BLS, transportation accidents accounted for 37 percent of fatal work injuries in West Virginia in one recent year.
Contact with objects or equipment– According to the West Virginia Department of Commerce, injuries from contact with objects or equipment resulted in 1,490 workplace injuries in one year. Industrial workers are at significant risk of harmful contact with objects or equipment, such as falling objects or crushing equipment.
Overexertion and overuse– Not all workplace injuries are acute. Sometimes the repetitive movements cause cumulative trauma and overuse injuries. In fact, 1,750 West Virginia workers suffered an overexertion or bodily reaction injury in one recent year, according to the state's Department of Commerce.
Types of Injuries Caused by Industrial Accidents
Common injuries caused by industrial accidents include the following:
Broken bones
Soft tissue strains, sprains, or tears
Toxic substance exposure
Neck and back pain
Crush injuries
Amputated limbs or digits
Facial injuries
Lacerations
Puncture wounds
Respiratory problems
Poisoning
Skin disorders
Chronic diseases
Vision or hearing loss
Herniated disc
Nerve damage
Traumatic brain injuries
Paralysis
Compensation in an Industrial Accident Claim
Injured workers may have two options for pursuing compensation after an industrial accident.
Most injured workers who are employees can file workers' compensation claims after a workplace accident. They may be eligible to receive paid medical care and replacement of a portion of lost wages through their employer's workers' compensation insurance. If an employer or insurance administrator is disputing your right to workers' compensation benefits after a work-related accident, let the attorneys at Jividen Law Offices PLLC review the details and discuss your legal options.
Under West Virginia law, almost all employers in West Virginia must have workers' compensation insurance. This no-fault insurance provides medical and wage benefits to injured employees. The following compensation is available to injured workers through a workers' compensation claim:
Medical benefits– Workers' comp covers all medical costs, including doctor's visits, physical therapy, medication, medical equipment, and travel to and from medical appointments. You will receive medical benefits for as long as you need medical treatment for your industrial accident injury.
Wage benefits– Workers' comp will provide wage replacement benefits while you are unable to work during your recovery. The type of benefits will vary:

Temporary disability payments account for two-thirds of your average pre-injury weekly wage, but payments are capped at a certain amount per week and limited to 104 weeks.
Permanent disability benefits pay two-thirds of your average pre-injury weekly wage up to a maximum amount for a certain number of weeks in the case of a partial disability. In the case of total disability, payments continue until you reach the age of eligibility for Social Security. Your treating doctor will determine whether your injuries qualify as permanent.
To protect your right to workers' compensation benefits, you must comply with the rules and procedures for filing a claim, including the following:
Report your workplace injury to your employer as soon as possible.
Seek medical treatment from a doctor and follow their instructions completely.
File a workers' compensation claim with the Office of the Insurance Commissioner within six months of the accident. If you are filing a claim for an occupational illness, you must do so within three years from the date you were last exposed to the hazard that caused the illness or three years from the date you should have known that the occupation caused the illness.
If your claim is denied, you have a right to file an appeal.
Generally, an employer with workers' compensation coverage cannot be sued by an injured worker. However, an injured worker might be able to file a personal injury lawsuit against a third party that has liability for the accident. Examples of incidents that might result in a third-party personal injury claim include the following:
An accident caused by another company working at the same job site or construction site
An accident caused by a non-employee individual
An accident caused by malfunctioning equipment
Our attorneys at Jividen Law Offices can review the details of your accident and discuss whether you may have a right to pursue a personal injury claim against the manufacturer of a defective product that injured you. Personal injury lawsuits offer a range of compensation for injured workers, including:
Current and future medical expenses
Lost wages while recovering
Loss of future earning capacity if your injury results in a permanent disability
Pain and suffering
Mental anguish
Emotional distress
Disfigurement
Loss of quality of life
Why You Need Help from Our Industrial Accident Lawyers
If you were injured in an industrial accident, you need an experienced advocate who can fight for your rights and interests while you focus on your recovery. Healing from serious injuries can leave little time or energy for anything else. That's why you should seek the guidance of a knowledgeable lawyer after an industrial accident. While handling your case, the West Virginia industrial accident attorneys at Jividen Law Offices, PLLC, will do the following:
Evaluate your options for compensation, including workers' compensation benefits and a personal injury lawsuit
Gather documentation to establish eligibility for workers' compensation benefits
Complete and file your workers' compensation claim
Appeal a denied workers' compensation claim
Investigate the accident for evidence of negligence by a third party
Submit an injury claim with the at-fault party's insurance company
Negotiate with insurance companies for maximum compensation
Be prepared to file a third-party lawsuit, if an appropriate settlement cannot be reached
Fight for your rights
Contact Our Experienced Wheeling Industrial Accident Lawyers Today
If you suffered an industrial accident injury in Wheeling, West Virginia, Jividen Law Offices, PLLC, can pursue every possible avenue to seek the compensation you need. We understand how critical medical and wage benefits will be to you and your family during this challenging time. We are prepared to work on your behalf. Contact a Wheeling industrial accident lawyer at Jividen Law Offices, PLLC, today for a free initial consultation.