Burn Injury Lawyer in Wheeling, WV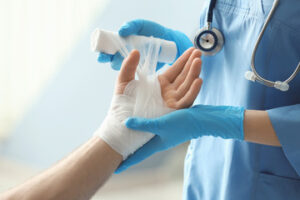 Severe burns are among the most painful and longest-lasting injuries people suffer. To compound the situation, treating burns can also be extremely expensive. A long hospital stay may be required to minimize the risk of infection. Additionally, severe psychological effects are common after burn injuries because victims may be disfigured.
At Jividen Law Offices, our personal injury lawyers in West Virginia can help you seek financial compensation for the pain you've suffered from a burn injury if someone else's negligent actions caused your burn injuries. A burn injury claim may help you obtain the money you need to cover your medical expenses and other losses. Our lawyers are ready to start on your case so you can focus on your recovery. Contact our office for a free initial consultation.
Common Causes of Burn Injuries
Unfortunately, there are many ways in which someone else's negligence can cause a burn injury. This is part of the reason why burn injuries are so common in West Virginia.
Some of the common causes of burn injuries are:
Car accidents — Motor-vehicle crashes can cause burns if a crash victim touches hot metal or a hot road surface. Car accidents can also cause burns if the car catches on fire after the crash.
Electrical shocks — Without proper safety, workers and others can sustain a severe electric shock if they come into contact with loose wires or certain electrical components. Utility workers, manufacturing workers, and others who work near or with electrical wires and equipment are especially vulnerable to shocks.
Workplace accidents — Industrial equipment that isn't properly maintained or has broken down can explode or overheat, causing anyone nearby to be burned. Flaming debris from an industrial explosion can also cause burn injuries.
Exposure to caustic chemicals — If employers don't take proper safety precautions, workers can sustain chemical burns simply by breathing in nearby fumes. Chemical burns can also happen after workers come into direct contact with certain chemicals.
Contact with hot liquids — Scalding water, hot cooking oil, and other hot liquids contacting the skin are some of the most common causes of burn injuries.
Cooking fires — Some people sustain burn injuries while working close to an open flame while they're cooking. Burn injuries can also result from boiling water, hot plates, cooking oil, grease, and other substances touching the skin or igniting in the kitchen.
House fires and arson — House fires can leave victims badly burned if they can't get out of the home quickly. Children are especially vulnerable to burn injuries in house fires.
Radiation exposure — Certain workers who spend time around radioactive materials, such as nuclear power plant workers, can sustain radiation burns. Sunburns are also a type of burn from overexposure to ultraviolet rays, which can happen to workers who spend a lot of time outdoors.
Types and Degrees of Burns
The five main types of burns you can sustain are:
Thermal contact burns — A thermal contact burn is when your skin touches a really hot object. When people picture a burn injury, this is typically what they think of.
Electrical burns — Electrical burns are caused by a strong electric current passing through your body if you aren't wearing proper protective equipment.
Chemical burns — Chemical burns are caused by your skin coming into contact with a strong acid or base. As water can sometimes make chemical burns worse, these burns can be particularly difficult to treat.
Arc/flash burns — An arc of flash burn is when your skin is charred from the heat of a nearby explosion or fire.
Scald burns — Scald burns occur when some type of hot liquid touches your skin.
Most serious burn injuries require immediate medical treatment. However, more minor injuries can be treated at home in some cases.
From least severe to most severe, the four degrees of burn injuries are:
First-degree burns — First-degree burns affect the outermost layers of your skin. They are the least painful type of burn. Symptoms include swelling and inflammation of the affected area, red skin, and dry peeling of the skin. You can usually treat first-degree burns at home. However, see a doctor if you're burned in a sensitive area.
Second-degree burns — Second-degree burns go beyond the top layers of your skin, causing symptoms such as blisters and deeply red skin. Blisters from second-degree burns can sometimes burst and leave the skin looking wet. Second-degree burns also carry a greater risk of infection. You should see a doctor right away if you sustain a second-degree burn, especially if the burn is in a sensitive area like your head, face, or groin.
Third-degree burns — Third-degree burns affect all the layers of your skin. These burns cause severe damage and can be extremely painful. In some cases, the burn is so severe that your nerves are affected, and you can't feel the pain. Third-degree burns turn your skin black or brown, and your skin may also take on a waxy color or take on a charred or leathery look. Call 911 right away if you sustain a third-degree burn, as the resulting blood loss or shock could be fatal.
Fourth-degree burns — Fourth-degree burns are essentially identical to third-degree burns, but the damage extends to your muscles, bones, and connective tissues. Like third-degree burns, fourth-degree burns require immediate medical treatment.
Compensation for West Virginia Burn Injury Victims
The physical, emotional, and financial costs of a burn injury can be severe. By filing a burn injury claim against the negligent party who caused your injuries, you can seek compensation for the damages you have suffered.
So, how much compensation can you claim for a burn injury? That depends on the damages you have suffered.
Compensation for burn injury claims may include payment for:
Medical bills, such as hospital stays, prescription medications, physical therapy, and future medical care
Lost income while you recover from the initial injury
Reduced future earning potential due to your injuries
Personal property damaged in the accident
Physical pain and suffering, including any scarring or disfigurement from your injuries
Emotional distress, such as post-traumatic stress disorder
Why File a Burn Injury Lawsuit?
There are two key reasons to file a lawsuit if you've sustained a burn injury in West Virginia. The first is that you will likely need the money from a lawsuit to cover your various expenses related to your injuries.
The costs of a burn injury can be substantial, including things like your medical bills, lost income, and possibly being unable to work for the rest of your life. You need to do what you can to take care of yourself after a burn injury. Filing a lawsuit may help you get the financial resources you need.
The second reason to file a burn injury lawsuit is it's a way to hold negligent parties accountable for their actions. By compelling the negligent party to pay for your injuries after an accident, you may be able to hold them responsible for their conduct. This will also hopefully prevent them from acting negligently in the future and harming someone else through their negligent actions.
How Can a Burn Injury Lawyer in West Virginia Help?
If you're still dealing with the effects of your injuries, you likely don't have the time or energy necessary to build a strong case against the party responsible for your injuries by yourself.
By hiring a burn injury lawyer in West Virginia, you can focus on your recovery while your lawyer fights for compensation on your behalf.
Here are a few ways Jividen Law Offices can help with your burn injury case:
Investigating the accident to find all the potentially negligent parties responsible for your injuries
Gathering the necessary evidence to substantiate your case
Filing your claim in a timely manner to avoid issues with West Virginia's statute of limitations
Communicating and negotiating with the various insurance companies involved in your burn injury claim to reach a reasonable settlement agreement
Bringing your case to trial to help you recover fair compensation for your injuries, if necessary
Contact a Burn Injury Lawyer Today
Our West Virginia burn injury attorneys at Jividen Law Offices have more than 50 years of combined experience helping people recover fair compensation after an accident. We would be honored to represent you and put our experience to work helping you seek full compensation. You can trust our team to handle your case with the care and attention it deserves. Contact us for a free initial consultation to learn more about our services.