Determining Fault After a Car Accident in West Virginia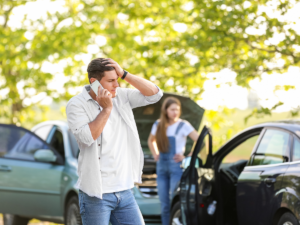 If someone injures you because of their negligent, reckless, or criminal behavior, West Virginia law says you may seek compensation for your losses. After a car accident, you may seek money from the at-fault driver, typically by filing a claim against their auto liability insurance. You may demand compensation for your medical expenses, vehicle damage, and your lost wages while you were recuperating and unable to work.
Before you receive an insurance settlement for car accident injuries, you will need to convince an insurance adjuster that the other driver was at fault. If you have an expensive claim, the insurance company will likely dispute the claim unless it is supported by solid evidence.
Tens of thousands of dollars in compensation may be in dispute after a serious car accident. You should have an experienced personal injury lawyer representing you to prevent an insurance adjuster from trying to shift the blame to you. After a car crash, you should speak with a West Virginia car accident lawyer at Jividen Law Offices. We can determine who is at fault and press the insurance company to pay the full value of your claim.
Call us now at 304-407-7511 or reach out online for a free initial consultation.
How Does West Virginia Define Fault in a Car Accident
When it comes to financial responsibility for losses in a car accident, West Virginia follows a traditional fault-based insurance system known as a modified comparative fault system. Each driver's liability in a car accident must be considered when determining whether one driver must pay the other.
Under a comparative fault system, if the other driver ran a red light and hit you but you were speeding, an insurer or a jury hearing a car accident lawsuit must consider how much you contributed to the accident and your own injuries.
Under West Virginia's modified comparative fault system, you cannot collect damages if you are 50 percent or more at fault for an accident. If you are less than 50% at fault, you may be eligible to collect compensation with the amount reduced in proportion to your share of fault. If you would have been awarded $100,000 in damages but are judged to have been 25% at fault for the accident, you would be eligible to receive $75,000 in compensation.
Who Determines Fault for a Car Accident?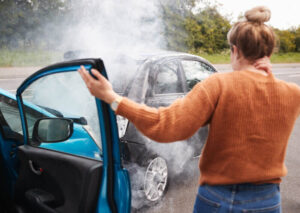 When police respond to a car accident in West Virginia, the officer creates an accident report with a description of the crash and the identities of those involved. Insurance companies carefully review the police report when weighing accident claims.
A representative from the insurance company will likely contact you and any other witnesses for information about the accident. An insurance investigator might examine the accident scene and the damaged vehicles and/or look for other evidence to determine fault in a car accident.
If the insurer decides their auto liability policyholder was at fault, they will then determine how much they should pay on your claim. Adjusters for for-profit insurance companies have an incentive to pay out as little as possible to resolve claims. If a claim is not supported by evidence, the insurer may try to shift the blame and deny the claim.
Once an insurance company denies a claim, you can appeal the decision to the insurance company if you can provide new evidence of the other driver's fault. If an auto insurance company denies your claim for a significant amount of damages, you should engage a car accident attorney.
A car accident lawyer at Jividen Law Offices can investigate your car accident and submit a demand letter to the insurer outlining the evidence of their policyholder's liability and the compensation you should receive.
In most car accident cases, we can negotiate a settlement with the insurer that our client finds acceptable. If the insurance company refuses to offer a reasonable settlement, the Jividen Law Offices is prepared to take the case to court to have a West Virginia jury decide who is at fault.
Evidence That Will Help Determine Fault
There are multiple potential sources of evidence in a car accident investigation. Among those we typically examine are:
Police reports
The accident scene
Damage to vehicles
Traffic and weather reports from the time of the crash
Statements from our client and witnesses, including our client's passengers
Vehicles' event data recorders. Data from these devices can show a vehicle's speed, braking, acceleration, steering trajectory, and more from seconds before a collision.
Surveillance camera footage, particularly at stores, ATMs, public buildings in urban areas
The other driver's cellphone records, which may indicate activity at the time of the crash or lengthy activity before the accident.
The other driver's debit or credit card records, which are time-and-date-stamped and could indicate fast food or drink purchases prior to the crash and a driver who was distracted.
Social media accounts, where an at-fault driver may post incriminating information.
In some cases, we work with an accident reconstruction specialist to develop a case. These forensic investigators can recreate the incident and present multi-media expert testimony in court, which can be highly persuasive to a jury.
Contact a West Virginia Car Accident Attorney Now
If you have been injured in a car accident in West Virginia through no fault of your own, a car accident attorney can help you pursue the financial compensation you deserve from those responsible for your injuries. Insurance companies try to protect their bottom lines in car accident cases. You need a qualified attorney to stand up for you!
Contact Jividen Law Offices, PLLC in Wheeling, WV, today by phone or online for a free, no-obligation initial consultation.