Medical Emergency Car Accident Lawyer in Wheeling, WV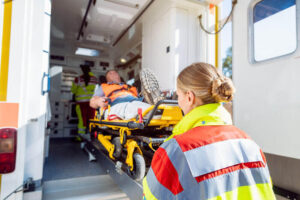 If you have been injured in a car accident caused by someone else, you may have a right to hold the individual at fault financially accountable for your losses. But what if something happened to the driver that caused the crash? What if the driver suffered a medical emergency, such as a heart attack or seizure while driving?
The State of West Virginia recognizes a sudden medical emergency defense, which may relieve a driver of liability if the driver can show that they suffered an unforeseen medical emergency that caused the crash. But the burden is on the allegedly incapacitated driver to show that their emergency was real and unforeseen.
If an at-fault driver claims the crash was due to a medical emergency or act of God, the West Virginia car accident lawyers of Jividen Law Offices, PLLC can help you challenge this defense. Any claim that an auto accident was due to a medical emergency should be thoroughly questioned.
If our investigation shows that the driver knew they had a medical condition that could lead to a loss of consciousness, this helps to establish the driver's negligence. Let Jividen Law Offices stand up for your rights and pursue the compensation you need to move forward. Call us now at 304-407-7511 or reach out online for a free legal consultation.
What is the Sudden Medical Emergency Defense?
The rationale for the sudden medical emergency defense is that a driver who suffers a medical emergency that leads to a car accident should not be held responsible for something that was beyond their control.
In general, the medical emergency defense is:
The defendant suddenly lost consciousness or the ability to control their vehicle while behind the wheel
The loss of consciousness caused a loss of control of the vehicle, which led to the accident
The loss of consciousness was caused by an unforeseeable medical emergency.
In West Virginia, the rule dates to a case known as Keller v. Wonn, 87 S.E.2d 453 (W. Va. 1955). In it, the court found that a driver's sudden unconsciousness due to high blood pressure was unforeseeable even after multiple doctor visits and being told to lead a more sedentary lifestyle – including not driving an automobile.
The West Virginia court said the medical warning the defendant in Keller v. Wonn received was not specific. The defendant "was not informed that, if he operated an automobile, he might have a sudden attack of some kind… He was simply told that he should not 'participate in any unnecessary physical exertion, including driving an automobile,' and that 'he could shorten his life by excessive physical activity.' The driver had had no prior medical episode that left him dizzy or unconscious."
A driver who claims that a medical emergency caused their car accident has to prove a medical emergency occurred and that it could not have been foreseen. The driver is expected to produce medical records or a doctor's testimony to explain why they lost the ability to control their vehicle and to establish that they had no reason to expect it to happen.
Types of Sudden Medical Emergencies
There are numerous health conditions that might be claimed to have caused a medical emergency that led to a car accident:
Heart attack
Stroke
Seizure
Fainting
Syncope, a loss of consciousness due to a sudden drop in blood pressure
Choking
Dizziness
Extreme pain
Loss of muscular control
Mental delusions
A reaction to a medication.
If you learn that a driver in a car accident that injured you is blaming the crash on an unforeseen medical event, you need to speak to an experienced personal injury attorney at Jividen Law Offices. Such a claim can and should be challenged.
Identifying Liability in a Medical Emergency Defense
At Jividen Law Offices, PLLC, our car accident lawyers stand ready to help if the other driver in an accident claims they were experiencing a medical emergency when they crashed into you. Our legal team will work to prove the other driver's fault and seek to recover maximum compensation for you.
Count on our team to:
Investigate all evidence related to the accident, such as police reports, ambulance dispatch records, accident scene photos, eyewitness statements, and vehicle damage reports.
Review the defendant's medical history and driving record.
Consult medical experts.
Account for the other driver's activities over several hours before the accident.
Interview witnesses to the accident or other parties with knowledge of the defendant's alleged medical condition.
Consult accident reconstruction experts to develop a persuasive explanation of how the accident happened.
There are several questions to raise to determine whether there was a medical emergency at the time of a car accident and whether it was truly unforeseeable. The questions include:
How does the defendant describe what happened to make them lose control of their vehicle?
If the defendant claims to have lost consciousness prior to the accident, at what point does their memory of the accident end?
What kind of medical care did the defendant receive after the accident and what, if anything, was diagnosed?
Was the defendant previously diagnosed with a medical condition that could lead to loss of consciousness or did the individual have a history of fainting, dizziness, or loss of muscle control?
Was the defendant being treated for a medical condition prior to the accident?
Was the defendant taking medication to control a medical condition prior to the accident?
Has the defendant had previous accidents attributable to a loss of consciousness or motor control?
Did the defendant disregard a doctor's orders not to drive?
Certain medical conditions are known to cause dizziness, sleepiness, or unconsciousness. For example, a person with diabetes who does not control their blood sugar is susceptible to passing out.
We would want to know what medications the defendant was taking. Several medications can cause syncope, fainting, or passing out, such as some medications to reduce blood pressure (diuretics, nitrates, antihypertension drugs) or regulate heart function (beta-blockers, digitalis, antiarrhythmics).
A medical emergency requires immediate treatment, which would be described in medical records. After filing a personal injury lawsuit on your behalf, we would question the at-fault driver under oath and ask the person's doctor questions under oath. We could also speak with family members, and coworkers, as available, to determine whether the defendant was known to have medical problems, driving issues, or activity restrictions.
Our goal when representing you will be to seek all compensation available for your medical expenses, lost work time, and pain and suffering. We'll consult medical, vocational, and financial experts to establish the full extent of your losses.
If we know the defendant intends to claim a medical emergency defense, we will gather available evidence to dispute the claim and submit it to the insurance company along with our demands for compensation for you. If the insurance company refuses to agree to a reasonable settlement, we can file a personal injury lawsuit on your behalf. This leads to the discovery process, which allows us to question the defendant, their doctor, and other witnesses and see the evidence they have. If the case cannot be settled after discovery, we will proceed to trial with a persuasive case to present to the judge and jury.
Time Limit for Filing a Car Accident Lawsuit in West Virginia
At Jividen Law Offices, PLLC, our attorneys have been recognized for our track record of successful results obtained on behalf of our clients. However, every case has unique factors. A case involving a medical emergency defense requires a thorough investigation and consultation with medical experts. Under West Virginia's statute of limitations, you generally have two years from the date of a car accident to file a personal injury lawsuit. After that, with few exceptions, you will have lost your right to seek compensation in court.
It is best to contact a West Virginia car accident lawyer to discuss your legal rights and options as soon as you are able following your injury. This allows an attorney to begin investigating the crash and gathering evidence without delay.
Talk to a West Virginia Car Accident Attorney Now
If you have been injured in a car accident in West Virginia through no fault of your own, do not let the other driver or their insurer avoid accountability by claiming a medical emergency. We'll examine the evidence and thoroughly question their defense from every angle.
Contact Jividen Law Offices, PLLC today in Wheeling, WV, by phone or online for a free, no-obligation initial case review. Learn how our firm can give you the best opportunity to pursue maximum financial compensation after a car accident caused by another driver.
If your insurance company tells you the driver who left you injured in an accident suffered a sudden medical emergency, then you need to speak to an experienced WV car accident lawyer right away.