Bicycle Accident Lawyer in Wheeling, WV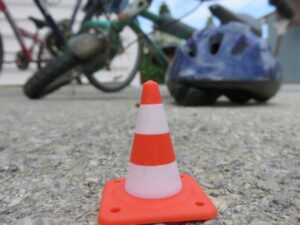 Many people in Wheeling, West Virginia enjoy riding bicycles as a recreational activity as well as an economical and environmentally friendly way to commute. When cyclists share the road with cars and trucks, they're at risk of serious accidents – accidents that can result in severe injuries, costly medical bills, and pocketbook-draining time missed at work.
If you've been hurt in a bike accident in the Wheeling area and someone else is to blame, you could be entitled to seek compensation for your losses. The bicycle accident lawyers at Jividen Law Offices can help you pursue this compensation at no upfront cost to you. Let us help you hold the at-fault driver accountable and fight for the money you deserve while you recuperate from your bicycle accident injuries.
Contact us today to discuss your case with a Wheeling bicycle accident lawyer during a free, no-obligation consultation.
West Virginia Bicycle Accident Laws
Under §17C-11-2 of the West Virginia Traffic Code, cyclists on state roads have many of the same rights and responsibilities as motorists. However, several other statewide traffic laws apply specifically to bicyclists and to motorists driving near bicyclists. They include:
17C-7-3– Overtaking and Passing Bicycle Proceeding in the Same Direction – Requires motorists overtaking bicycles traveling in the same direction to allow at least three feet of space and proceed at a reduced speed while passing until their vehicles are safely clear of the bicycle.
17C-11A-4– Requirements for Helmet Use – Requires all bicyclists and passengers under the age of 15 to wear securely fitted and fastened helmets at all times on public roads or bicycle paths.
17C-11-3– Riding on Bicycle Seats; Carrying More Than One Person on a Bicycle – Prohibits cyclists from riding on bicycles without permanently attached seats and from carrying more people than the bicycle is designed to hold.
17C-11-4– Clinging to Vehicles – Prohibits cyclists from clinging or attaching themselves or their bicycles to motor vehicles driving along West Virginia roads.
17C-11-5– Riding on Roadways and Bicycle Paths – Requires cyclists traveling below the normal speed of traffic to ride in marked bicycle lanes or as close as possible to the right side of the road, except when overtaking and passing, preparing to turn left, or avoiding obstacles. Allows cyclists on one-way roads with two or more marked lanes to ride as closely as practicable to the left side of such roads. Also prohibits cyclists from riding more than two abreast, except when riding on designated bicycle paths.
17C-11-6– Carrying articles – Prohibits cyclists from carrying any package or bundle that prevents them from keeping at least one hand on the bicycle's handlebars at all times.
17C-11-7– Lamps and Other Equipment on Bicycles – Requires all cyclists to have their bikes equipped with functioning brakes that cause the wheels to skid when engaged on "dry, level, and clean pavement." Also requires cyclists who ride at night to equip their bikes with white headlights visible for at least 500 feet to the front and red rear reflectors that are visible when illuminated from at least 300 feet from behind.
Common Causes of Bicycle Accidents
No two bicycle accidents are the same, but they frequently share a common cause: driver negligence. When motorists disregard traffic laws, fail to remain watchful for bicycles on the road, or behave carelessly around bicyclists, they risk causing preventable accidents. Among the common causes of bicycle accidents are:
Distracted driving– Drivers who are absorbed in phone calls, text messages, or other distractions are more likely to overlook bicycles, which have a smaller profile than other vehicles. This significantly increases the likelihood of car-bicycle collisions
Driving under the influence– When a motorist is intoxicated, the driver has impaired depth perception and recognition of traffic hazards and slower reactions. A drunk driver may fail to see a bicyclist in time to avoid colliding with the bicycle.
Driver fatigue– Severe fatigue can be just as impairing as a blood alcohol level above the legal limit. Dangerously drowsy drivers may cause bicycle accidents when they unintentionally drift into neighboring lanes or nod off at the wheel.
Speeding– Drivers who speed, or follow too closely leave themselves little room for error. This behavior puts cyclists at risk of serious injury if they are hit by a speeding vehicle. Cyclists have little protection in the event of a collision other than a protective helmet if they are wearing one.
Driver error– Drivers who are inexperienced, or inattentive are more likely to commit driving errors, such as failing to yield the right of way or signal before turning.
Other common contributing factors in Wheeling bicycle accidents include defective car or bike parts and poor road conditions. Many cyclists are also injured in dooring accidents, which occur when vehicle occupants open car doors directly into the paths of oncoming cyclists.
If a careless or reckless driver collides with a cyclist in West Virginia, the injured cyclist may have the right to seek compensation from the motorist's auto insurance policy. Similarly, if some other party behaves negligently in a way that causes a bike accident, an injured cyclist could be entitled to file a claim against that party. A Wheeling injury lawyer at Jividen Law Offices can help you evaluate whether you have a valid personal injury case after a bicycle accident. If so, we can help you hold the at-fault motorist financially accountable for your injuries and related losses.
Injuries as a Result of a Bicycle Accident
Cyclists are extremely vulnerable in the event of a traffic collision. Cyclists may have helmets, but they lack airbags, seat belts, and metal vehicle frames to shield them from the impact of a crash. As a result, many cyclists sustain the following types of serious injuries in Wheeling bicycle accidents:
Head and neck injuries
Facial injuries and dental trauma
Abdominal injuries and internal bleeding
Arm, elbow, wrist, and hand injuries
Dislocated or broken bones
Permanent scarring or disfigurement
Bruises, lacerations, and puncture wounds
Leg, knee, ankle, and foot injuries
Spinal cord injuries (SCIs)
Partial or total paralysis
Emotional and psychological injuries
Post-traumatic stress disorder (PTSD)
Bicycle Safety Tips
As a cyclist, you can take steps to reduce the risk of a collision with a motor vehicle. Among the safety precautions to take are to:
Remain cautious at all times and proceed as though motorists do not see you (since they often do not)
Wear bright, fluorescent clothing to make yourself as visible as possible during the day and reflective clothing if you ride your bike at night
Make sure your bike is equipped with functioning lights and reflectors
Avoid riding a bicycle on the road at night or at dusk when drivers have reduced visibility
Wear a properly secured protective helmet every time you ride
Refrain from riding your bike if you have been drinking alcohol
Refrain from texting or using your phone for any reason while riding
Maintain your bicycle in safe operating condition
Obey all local traffic laws regarding cyclists and cycling
What To Do After a Bicycle Accident in Wheeling, WV?
The aftermath of a bicycle accident can be shocking and leave you uncertain about what to do next. However, if you take the following steps, you can protect your rights and improve your chances of pursuing compensation:
Seek medical attention as soon as possible to have your crash-related injuries diagnosed and treated
Follow your doctor's care plan by taking medications as prescribed, resting as ordered, and attending all follow-up appointments as scheduled
Gather important evidence and information, including the motorist's insurance details, photos of the crash scene, and statements from witnesses
Keep track of all medical bills, bike repair estimates, and other crash-related documentation as proof of your financial losses
Watch what you say to others or post on social media about the accident while your injury claim is pending
Contact a knowledgeable Wheeling bicycle accident lawyer for guidance
What Can You Recover After a Bicycle Accident?
When you file a personal injury lawsuit after a bicycle accident, you are asking to be compensated for the losses you suffered in the accident. Depending on the circumstances, this could include money for:
The costs of any medical care you needed to treat your crash-related injuries
The value of lost wages or benefits from missed work
Projected losses in your future earning capacity, if your injuries are permanent
The intangible costs of your crash-related pain, suffering, and lost quality of life
Incidental out-of-pocket costs, such as mileage reimbursement for medical appointments
The costs of repairing or replacing your damaged bicycle or other property
Contact a Wheeling Bicycle Accident Attorney
If you have been hurt in a bicycle accident in Wheeling, WV, let the attorneys of Jividen Law Offices put our 50 years of experience to work on your behalf. Contact our firm today for a free initial case review to learn more about your legal options and how we can help.