Wheeling Slip & Fall Injury Attorneys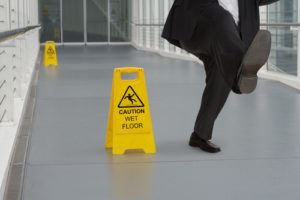 West Virginia Slip and Fall Lawyer
When you are shopping in a store, out at a restaurant, or walking on the sidewalk, you probably never think that you might be severely injured in a slip, trip or fall accident. But the reality is that slip and fall accidents are common.
Some people suffer only slight scrapes and bruises in a slip and fall. But many people suffer far more serious injuries, including joint dislocations, broken bones or even a traumatic brain injury when they hit their head during a fall.
If you have suffered serious injuries in a slip and fall, you may be faced with the prospect of significant medical bills for your treatment. You may also have lost wages or income because you missed work as you recovered. When your slip and fall accident was caused by the negligence of a property or business owner, you may be entitled to hold them financially responsible for your injuries and losses.
For more than 35 years, the West Virginia slip and fall lawyers at Jividen Law Offices, PLLC have aggressively pursued financial recovery and justice for victims of slip and fall accidents in Wheeling and throughout the Ohio Valley. As dedicated legal advocates, we do not rest until we have obtained fair and full compensation for you.
Our firm and our attorneys have been recognized for our legal advocacy, with membership in the Million Dollar Advocates Forum, which recognizes attorneys who have obtained million-dollar settlements and verdicts for their clients. We have also been included in Super Lawyers over a nine-year period. Our attorneys also have memberships in the American Institute of Personal Injury Attorneys, West Virginia Association of Justice, and West Virginia Foundation. Our awards and memberships show our commitment to effective and vigorous advocacy on behalf of our injury and accident clients.
If you have suffered a slip and fall accident on somebody else's property, reach out to the Wheeling slip and fall lawyers of Jividen Law Offices, PLLC. Call us or contact us online today for your free initial consultation. We can discuss your case, and you will learn how we may be able to help you recover maximum compensation.
What Do You Have to Prove in a Slip and Fall Claim?
To successfully prove a slip and fall claim – also called a "premises liability" claim – in West Virginia, you must show that you were owed a duty of care by the owner of the property or business where your fall took place. You must also show that the property or business owner somehow breached a duty of care to you, and that the breach caused or substantially contributed to your slip and fall.
A duty of care is owed by the owner or occupier of the property to lawful visitors. Property owners only owe unlawful visitors or trespassers a duty to keep from intentionally injuring them.
Property or business owners owe lawful visitors, such as a customer in a store or a repairman at someone's home for a service call, a duty to warn of dangerous or hazardous conditions on the premises that might not be obvious to the visitor. The property or business owner must take reasonable steps to address dangerous conditions the property or business owner knows about or that were created by the property or business owner's own actions or omissions.
To prove that a property or business owner has breached a duty to you as a lawful visitor on the property, you must prove that the owner either created the dangerous or hazardous condition that caused your slip and fall or failed to exercise reasonable care to discover the condition and fix it or warn you about its presence.
For example, suppose that liquid on a grocery store floor caused you to slip and fall. You will need to prove that the store's owner breached a duty of care to you. You can show the breach occurred because the store owner created the puddle of liquid (perhaps from a leaking freezer). You might also show the liquid was spilled on the floor by a customer, and the store owner did not exercise reasonable care to discover it and clean it up. To succeed with this claim, you would have to show that the liquid was on the floor long enough for the store's employees to have found it and cleaned it up.
How Can Our Wheeling Slip and Fall Attorneys Help?
When you have suffered a slip and fall accident, our Wheeling personal injury attorneys can help you. Our goal will be to recover compensation from the property or business owner whose negligence was responsible for your accident and injuries. Our firm can help you pursue your claim by:
Performing our own independent, thorough investigation into your accident and securing and reviewing potentially important evidence such as accident/incident reports, surveillance video footage, accident scene photos, witness statements and medical records
Working with engineering and accident reconstruction experts to determine how your accident occurred and why the business or property owner's negligence caused or contributed to your fall
Working with medical, financial, and vocational experts to help us show the extent of your physical injuries and financial damages
Filing your claim for compensation with the appropriate parties and insurance companies and aggressively negotiating with insurance adjusters and defense lawyers for fair and full compensation
Preparing your case to go to court and to trial, if necessary, and advocating for a verdict in your favor
When you choose Jividen Law Offices, PLLC to help with your slip and fall accident claim, you do not have to pay anything unless and until we recover compensation for you. After you have been injured through no fault of your own, you may be forced to deal with the financial burdens of medical bills and lost wages due to missed work.
Our West Virginia slip and fall accident lawyers believe that you deserve to have aggressive legal representation. As we fight for you, you do not have to worry about the cost of hiring a lawyer.
Compensation Available After a Slip and Fall Accident
If you have been injured in a slip and fall accident, you may be entitled to seek compensation for your injuries and these damages:
Costs of ongoing and future medical treatment, including hospital bills, surgeries and other medical procedures, doctor's appointments, pain medication, physical therapy appointments, crutches or walkers or other mobility equipment, and other out-of-pocket expenses incurred due to your injuries and any resulting disabilities
Lost wages and income for the time you missed from work while recovering from your injuries
Lost earning potential, if the injuries you suffered in your fall leave you with disabilities that prevent you from returning to work or earning as much as you did before the fall
Lost enjoyment or quality of life, caused by physical disabilities or disfigurement
Pain and suffering, or the physical and emotional anguish and distress that result from your injuries
Property damage, such as shoes or clothing damaged in your fall, and glasses, watches or phones broken during your fall
Common Causes of Slip and Fall Accidents
A slip and fall or trip and fall accident can be caused by any object, material or hazard that causes a person to lose their balance or footing. Common causes of fall accidents include:
Snow and ice
Spilled liquids or foods
Mud, leaves, or other plant matter
Broken and uneven pavement
Potholes
Broken stairs
Broken or loose hardwood flooring or tile
Torn or loose carpet or rugs
Uneven flooring surfaces (such as half-steps)
Recently mopped or waxed floors
Loose wiring or cables stretched across the floor
Trash or debris on the ground
Other factors that can contribute to fall accidents include poor lighting and a lack of anti-slip mats or handrails in places where slip and falls commonly occur.
Common Places Where Slip and Fall Accidents Occur
Although a slip and fall accident can take place anywhere, these accidents tend to occur more frequently in heavily trafficked places, such as businesses and public areas. Common places where slip and fall accidents occur include:
Sidewalks and walkways
Parking lots and garages and driveways
Grocery stores and supermarkets
Department stores
Hardware stores
Bars and restaurants
Hotels
Theaters
Schools
Hospitals
Swimming pools
Recreational parks
Amusement parks
Common Injuries Caused by Falls
For many people, a slip and fall accident only causes a few scrapes and bruises. However, some accidents can leave people with serious, life-altering injuries. Common injuries caused by fall accidents include:
Lacerations (cuts)
Contusions (bruises)
Soft tissue injuries, including sprains, strains, and tears of tendons, ligaments and muscles
Neck and back injuries, including spinal disc hernias and ruptures
Broken bones
Dislocated joints
Internal bleeding
Head and eye injuries
Traumatic brain injuries, including concussions, brain bleeding, or coma
What to Do If You've Been Hurt in a Fall on Someone Else's Property
If you have been injured in a fall accident on somebody else's property, take these steps to help protect your rights to pursue a claim for compensation from the property or business owner where your fall occurred:
Report your fall to the owner or occupier of the premises. Notify the property owner or manager of the business where your fall took place as soon as possible after your accident. Avoid any charged emotions, accusations or talk about lawsuits. Simply advise the business or property owner that a fall occurred on the premises. If your slip and fall occurred at a business establishment, the business's manager will likely fill out an accident or incident report. Request a copy of this report for your own records.
Take photos or videos of the scene of your fall. If possible, document whatever it was you believe caused your fall. Photograph any warning signs or safety equipment nearby, whether anything obstructed your view, and the lighting and (if applicable) weather conditions outside. Also photograph any visible injuries you suffered as well as the damage to your clothing and footwear.
Get the contact information for the property or business owner. That will let you know who to contact if you later pursue a claim for compensation.
Seek medical attention. Even if you do not think you were seriously hurt, get checked out by your doctor, who can examine you for any signs of injury that might not yet be causing you pain. Identifying your injuries as soon as possible after your accident will strengthen your claim that those injuries were caused by your fall rather than by something else.
Talk to a West Virginia slip and fall attorney from Jividen Law Offices, PLLC as soon as possible. If you wait too long, critical evidence in your case, such as surveillance footage, may be inadvertently lost. We can help you understand your legal rights and options and quickly get to work pursuing your case.
Talk to a Slip and Fall Lawyer in Wheeling, West Virginia, Now
If you have been injured in a slip and fall accident on someone else's property, begin the process of pursuing the financial compensation you need and deserve from those responsible for your accident. Get a free consultation with a Wheeling, West Virginia, slip and fall lawyer from Jividen Law Offices, PLLC.