Lawyer For Boating Accident in Wheeling, WV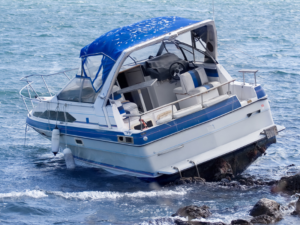 Boating is a popular activity in Wheeling, WV, and summer for many residents means canoeing Wheeling Creek or taking a pleasure cruise on the Ohio River. Unfortunately, boating is also a potentially dangerous activity, and accidents on the water can lead to long-term health issues, costly medical bills, and deep emotional distress.
Compensation from a personal injury claim can alleviate these losses, but winning a boating accident case is challenging without help from an experienced attorney.
If you were hurt in a boating accident that someone else caused in Wheeling, the attorneys at Jividen Law Offices, PLLC, want to help you demand justice. With more than 50 years of combined legal experience and a proven track record of success, our Wheeling boating accident attorneys have what it takes to handle even the toughest cases. We believe in forcefully representing our clients and relentlessly pursuing the accountability they deserve.
Ready to demand the money you're owed from the person who hurt you? Then call us or visit our contact page today for a free initial consultation.
West Virginia Boating Laws
The West Virginia Division of Natural Resources provides this helpful list of laws that boaters in the state must follow:
Anyone born on or after Dec. 31, 1986, must complete a boater safety and education course approved by the National Association of State Boating Law Administrators before they can operate a boat on West Virginia waters. You can find a list of approved courses here, and it is possible to complete many of these courses online.
No one under age 15 can legally operate a boat in West Virginia unless they are at least 12 and someone age 18 or older is also on board with them.
There must be a life jacket for everyone onboard a vessel while it's on the water. Anyone under age 13 must wear a life jacket or other personal floatation device while the vessel is moving. Any vessel that is at least 16 feet long must also have a throwable life jacket ring or cushion for someone to use if they fall overboard.
Any water vessel must have certain lights engaged at night and in low visibility. The required lights include a masthead light, sidelights, and stern lights, depending on the type of vessel and its length.
Most passenger vessels must have at least one working fire extinguisher on board, and larger vessels may require more than one fire extinguisher.
Vessels over 39.4 feet in length require some instrument to signal other vessels using sound, though the required equipment depends on the vessel. Smaller vessels need only have some method of making a sound signal.
It is illegal to operate a boat or other water vessel in a "reckless or negligent manner."
It is illegal to operate a boat while under the influence of alcohol or drugs.
If a boat collides with another vessel or another hazard, the boat's operators must give their name, address, and the boat's identifying information to anyone injured in the accident.
If a boat involved in an accident causes any injuries, deaths, or more than $2,000 in property damage, the boat's operator must submit an accident report to the Division of Natural Resources. The Division must receive the report within 10 days in cases involving injuries or within 48 hours in cases involving deaths.
How Many Boating Accidents Occur in West Virginia?
The U.S. Coast Guard reported 16 recreational boating accidents in West Virginia during one recent year, resulting in five deaths and 14 injuries, as well as $60,240 in property damage.
Nationally, alcohol consumption was the leading cause of fatal boating accidents. Furthermore, the Coast Guard found that 77 percent of deaths occurred on boats operated by people who had not received safety instructions.
Who's Liable in a Boating Accident?
Depending on the circumstances, several different parties could be liable for a boating accident, including:
The operator of your boat– If the person operating your boat did so in a negligent or unsafe manner, they might bear responsibility for the collision. Boat operators must follow relevant boating rules and cannot operate their craft while under the influence of drugs or alcohol.
The owner of your boat– The boat's owner could be liable for an accident even if they were not operating it at the time. For example, an owner who failed to inspect and maintain their craft could be liable if that failure contributed to the accident.
The operator or owner of another boat – Many boat accidents happen because one operator is not paying attention and collides with another vessel. If that happened in your case, the other boat operator might be liable for your injuries.
The boat's manufacturer– If a boating accident occurs because of a manufacturing or design defect, the company that made or designed the boat might be liable for your injuries.
Passengers on the boat– If passengers on a boat become rowdy or are drinking, they could cause an accident that injures someone else, potentially making them responsible for resulting injuries.
Boat tour companies– Companies that operate boat tours in West Virginia have a legal obligation to keep passengers safe and ensure their vessels are seaworthy. If they failed in these duties and caused the accident, they might be liable for your injuries.
Maintenance workers– Many boat owners or operators hire other people to maintain their vessels and keep them in good working order. But if a maintenance worker neglects to inspect the vessel or does a sloppy job on repairs, they could be responsible for a subsequent accident.
Common Causes of Boating Accidents
Some of the most common causes of boating accidents in West Virginia include:
Boat operators or passengers drinking or using drugs
Boat operators becoming distracted or inattentive
Boat operators failing to watch for other vessels on the water
Boat operators driving their vessel at unsafe speeds or without concern for others on the water (for example, getting too close to other vessels or other hazards)
Boat operators failing to watch for potential hazards underwater or close to shore
Boat operators and owners failing to provide the required safety equipment and ensuring the equipment works correctly
Maintenance workers doing subpar work
Inexperienced boat operators
Mechanical issues with the vessel
Boat operators or owners taking their vessels out in poor weather conditions or at night
Common Injuries Suffered in Boating Accidents
Boating accidents can cause severe injuries to operators and passengers, such as:
Lacerations from the vessel's propellers or other machinery
Severed limbs from contact with propellers or other machinery
Internal bleeding
Injuries to internal organs
Broken bones
Drowning
Proving Negligence in a Boating Accident Lawsuit
Most boating accident cases rest on the legal concept of negligence. To win your case, you must prove the boat operator or another party owed you a duty of care and failed to take reasonable steps to prevent you from being hurt. Crucially, negligence can involve someone's actions or their failure to act, depending on the circumstances of the accident.
You do not have to prove someone's negligence beyond a reasonable doubt. Instead, you must show they were negligent based on "the preponderance of the evidence," meaning the evidence shows it is more likely than not that they acted negligently. Some types of evidence you can use to prove negligence include:
Photos and videos of the accident
Police accident reports
Company incident reports
Eyewitness accounts
Expert testimony
Forensic evidence from the accident scene
Compensation Available in West Virginia Boating Accident Cases
Your compensation in a West Virginia boating accident case depends on several factors, including the extent of your injuries and financial losses, if your actions contributed to the accident, and the strength of the available evidence. While a boating accident attorney can't tell you how much you could recover until they review your case, your potential compensation might include money for:
Your medical bills related to the accident
Your lost wages
Any reduction in your future earnings
Your physical pain and suffering
Your emotional distress
Your diminished quality of life
Your damaged personal property
Time Limit to File a West Virginia Boating Accident Lawsuit
According to the West Virginia Code, you have two years from the day of a boating accident to file a lawsuit against the parties at fault. Missing this deadline means the courts will likely dismiss your case, in which case you will not be able to seek compensation in court. Talking to a lawyer as soon as possible after a boating accident is the best way to protect your right to compensation.
Talk to a Knowledgeable Boating Accident Lawyer in Wheeling, WV, Today
Were you hurt in a boating accident in Wheeling, WV? If someone else is to blame, they could owe you compensation for your medical bills, lost earnings, and more. At Jividen Law Offices, PLLC, we are ready to demand maximum compensation for you.
Call or contact us online for a free consultation with a knowledgeable boating accident lawyer in Wheeling, WV.