Dog Bite Attorney in Wheeling, WV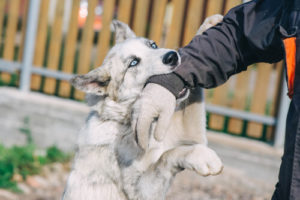 West Virginia Dog Bite Lawyer
Dogs can unexpectedly lash out and attack or bite someone. Sometimes these animals can attack with little or no provocation. Some dog bites result in only a minor scratch. However, when a dog wants to inflict damage, a bite can lead to serious injuries. If the dog is suffering from health issues, the bite can cause serious infections or other complications.
If you have been bitten by someone's dog, you deserve financial compensation for your injuries and damages. For more than 35 years, the personal injury lawyers of Jividen Law Offices, PLLC have worked tirelessly to recover financial compensation on behalf of accident or injury victims throughout the Ohio Valley region and across West Virginia. We represent clients with a legal team that has a combined 50-plus years of legal experience. Our attorneys know what it takes to seek maximum compensation for our clients.
We have a lengthy track record of successful results on behalf of our clients, and our law firm and attorneys have been recognized for our efforts. We have been honored by inclusion in Super Lawyers for nine consecutive years. We are also members of the Million Dollar Advocates Forum, which recognizes attorneys who have received verdicts or settlements valued at $1 million or more.
We stand ready to provide you with the dedicated service and legal representation that you and your case deserve. Contact Jividen Law Offices, PLLC today. We will provide a free initial case evaluation with an animal attack attorney, and you will learn more about your legal options after you have been injured by a dog bite.
Who Is Responsible for a Dog Bite Injury?
In West Virginia, liability for a dog bite injury is imposed on the dog's owner. While many people are bitten by a dog owned by someone they do not know, a significant portion of dog bites are inflicted by a dog known to the victim. The bite may come from a dog owned by a family member, friend or neighbor.
If you have been injured by a dog bite, you may feel unwilling to pursue a claim for compensation when the dog is owned by someone close to you. Understandably, you may not wish to harm your relationship by bringing a legal claim against the dog's owner. However, you should know that most dog bite injury claims are handled by a homeowners' or renters' insurance policy.
The insurance company will investigate the claim, hire legal defense and pay the compensation you agree to in a settlement or win in court. You do not have to worry about taking money out of the pocket of a family member, friend, or neighbor. Those people have insurance for this very reason – to protect themselves when they become liable for another person's injury.
Demanding Full Compensation for Dog Bite Injuries
Dog bite injuries can range from a mild scrape to serious damage that requires surgery to repair and can lead to infections. If you have been seriously injured by a dog bite, you may be entitled to seek these damages:
Costs of medical treatment, including ER bills, surgeries, prescription medication, doctor's appointment, physical therapy and any other out-of-pocket expenses
Lost wages, if you miss time from work while recovering from your injuries
Lost earning capacity, if your injuries leave you with disabilities that prevent you from returning to your pre-injury work or earning the same wages
Pain and suffering, including loss of quality of life due to physical disabilities or disfigurement caused by your injuries
Damaged property, such as clothing that was ruined in the dog's attack
What to Do If You Have Been Bitten by a Dog
If you have been bitten by a dog in West Virginia, these steps can help if you later decide to file a claim for your injuries and damages:
Notify the dog's owner of your injury (if the owner was not around).
Get contact information and insurance information (if available) from the dog's owner.
Take photos of any visible injuries you suffered and of any relevant details of your dog bite. For instance, document whether the dog was leashed or had escaped from a fenced-in yard.
Seek medical attention for any injuries and watch for complications such as an infection.
Reach out to a Wheeling dog bite lawyer from Jividen Law Offices, PLLC. We can discuss your legal rights and options, and you will learn about the compensation you may be entitled to for your injuries and damages.
Understanding Complications from Dog Bite Injuries
When you suffer from a dog bite, act quickly to treat the injury. That will help reduce the risk of complications, such as infection or structural or nerve damage. Seek treatment from your doctor or from the emergency room if you suffer a dog bite that:
Is inflicted by a dog whose vaccination history you do not know, or that appears to be sick
Does not stop bleeding
Causes intense pain
Exposes structural tissues underneath the skin, such as muscles, ligaments, tendons or bones
Causes reduction or loss of motor function
Appears red, swollen or inflamed
Leaks fluid or pus
Also seek medical attention if you do not have a current tetanus booster or if you have a fever and feel weak, or disoriented.
Potential complications from a dog bite injury include:
Bacterial infections such as staphylococcus, pasteurella, tetanus, and capnocytophaga
Viral infections, especially rabies
Nerve and muscle damage
Broken bones
Permanent scarring
Young children who are bitten or attacked by dogs, particularly larger breeds, are especially at risk for suffering fatal injuries. Dogs can more easily attack vital areas on a small child, including the neck and head.
West Virginia Dog Bite Laws
West Virginia's dog bite laws impose full or limited strict liability, depending on the circumstances of the case. If you are bitten by a dog running at large (not on a leash or confined on private property), the dog's owner can be held strictly liable for your injuries. That means you do not need to prove that the owner committed an act of negligence that caused your injury.
If you are bitten by a dog on a leash, the owner is subject to limited strict liability under the "one bite" rule. Under this rule, an owner with a dog on a leash can be held strictly liable for dog bite injuries only if the owner knew or had reason to know of the dog's viciousness or potential to attack or bite. Typically, this knowledge is proven by prior incidents of attacks or bites by the same dog. If a dog has no prior incidents of aggressive behavior, a person bitten by a leashed dog must prove that the owner acted negligently and that this negligence led to the bite.
How Long Do You Have to File a Dog Bite Claim?
If you choose to file a lawsuit to seek compensation for injuries and damages from a dog bite, West Virginia's statute of limitations requires that you file your suit within two years of the date of your injury. This two-year period does not begin to run for a minor child injured by a dog bite until his or her 18th birthday.
If you do not file your case within the limitations period, the court can permanently dismiss your case. When that happens, you lose the right to pursue financial compensation in court.
How Our Wheeling Dog Attack Lawyers Can Help
After you have been injured by a dog bite, let the Wheeling dog bite attorneys of Jividen Law Offices, PLLC help you secure the financial compensation you need for your injuries and damages. Our firm can help you by:
Collecting all the relevant evidence for your case, such as injury photos, medical reports, witness statements and documentation of prior bites or attacks by the same dog
Identifying the dog's owner and determining available insurance coverage
Filing claims on your behalf with the insurance company and aggressively pursuing a negotiated settlement that provides you with fair and full compensation
Preparing your claim to be filed in court or to go to trial, if necessary
At Jividen Law Offices, PLLC, you will never have to pay a penny for our representation unless and until we recover compensation in your case.
If you have been the victim of a dog bite or attack, schedule a free, no-obligation initial consultation with a dog bite lawyer in Wheeling, WV. An attorney at Jividen Law Offices, PLLC can discuss the details of your case. You will learn how our firm can help you secure maximum compensation.